WORLD
From Hong Kong's rate hike to the world's best cheese – Here's your November 4 news briefing
To start off, we're looking into:
Hong Kong raises interest rates after the Fed's hike
Hong Kong's monetary policy has been pegged to the US dollar since 1983, in a close range between 7.75 to 7.85 Hong Kong dollars against the greenback. So, when the Hong Kong dollar moves outside this range, the Hong Kong Monetary Authority (HKMA) will intervene and try to fix it. HKMA and the city's banks have been keeping their interest rates on a steady level, but as the US Fed began to aggressively hike rates this year to try and cool down inflation, the city will tend to follow suit.
After the Fed raised interest rates by 75 basis points on Wednesday, it spooked the US market. Hong Kong hiked its base rate a few hours after the Fed, and so did HSBC, the city's largest commercial bank, with its best lending rate. Other banks are expected to follow in their footsteps.
HKMA CEO Eddie Yue warned the city to brace for high commercial rates and carefully manage financial risks.
Russia flip-flops back into the Ukraine grain export deal
Ukraine is one of the world's biggest exporters of grain, but stocks have been piling up in the country since Russia invaded. Russia has blocked shipments of grain in the Black Sea, contributing to the global food crisis. But, a few months back, the UN and Turkey worked out a deal with Russia to allow the shipments to resume. Then, Russia suddenly backed out of the deal this weekend, blaming Ukraine and the UK for drone attacks.
But, as the UN and Turkey continued with the shipments despite Russia's disagreement, Moscow's leverage seems to be limited. On Wednesday, Russia said it would rejoin the grain export deal and guarantee safe passage in the Black Sea for ships from Ukraine. This means the humanitarian corridor for Ukraine grain exports will not be used for military purposes.According to the UN, since Moscow agreed on the deal, 9.7 million tons of crops and food have been shipped.
China tells the US to butt out
Last year, Chinese shipping giant Cosco made a bid for a 35% stake in one of three terminals in Germany's largest port in Hamburg. At first, Germany was a little unsure about whether or not to let the deal go through for national security reasons and for fear of increasing its dependence on China.
Last week, Germany agreed on a compromise for Cosco to take a reduced stake in the deal. It can now get a stake of less than 25%, which prevents the company from making official management decisions.Then, on Wednesday, a US State Department official said the US had cautioned Germany about allowing China a controlling stake in a Hamburg port terminal.
Well, China heard the news, and on Thursday, its foreign ministry said the US has "no right" to interfere in Chinese cooperation with Germany. Foreign ministry spokesman Zhao Lijian said that US interference is part of a trend of the country's coercive diplomacy.
To end, we'll look into:
Trippy drugs and mental health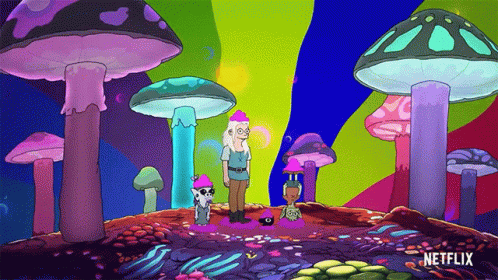 As a part of our overall wellness, mental health plays a huge role by affecting how we experience our everyday lives. But, according to the WHO, mental health conditions and substance use disorders have risen 13% in the last decade. While there are social changes that we can make to improve overall mental health (for example, decreasing wealth gaps, making housing more accessible, pursuing social progress, etc.), medical treatment for certain mental illnesses will always be necessary.
And actually, there's been a new trend in treating mental illnesses using the kinds of drugs people usually take for fun. But this time, they're being used in a controlled medical environment. The most recent breakthroughs have been with psychedelics – and four drugs in particular: psilocybin, ketamine, MDMA and LSD.
First, let's talk about ketamine, also known as "Ket" and "Special-K" (and probably a bunch of other nicknames). Originally an anesthetic, ketamine began being researched in the 2000s by medical professionals as a possible treatment for depression. Ketamine helps the brain activate glutamate, which plays a big role in mood regulation. But only a few years ago, in 2019, did we see ketamine become a more legit treatment. The FDA in the US approved the use of an esketamine nasal spray called Spravato for treatment-resistant depression.
Another drug getting a lot of attention right now is psilocybin, or magic mushrooms. There are trials on 'shrooms taking place all over the US, but they're kind of difficult to access (no kidding). According to users, this drug can cause increased euphoria and a heightened awareness of parts of the environment. These trips can cause an "afterglow" lasting for months.
Also, instead of taking a large amount of drugs and tripping your face off, many people microdose. This means taking small doses every few days so you get the health benefits without the high.

There are, of course, risks with taking any kind of drugs. For example, with LSD, there are pros and cons. "If you're constantly stimulating these neurons, even with a small dose of these compounds, the neurons just can't take it," said David Olson, a chemistry professor at the University of California.
In other news ...
📉Stocks: MSCI's global gauge of stocks is down 1.28% 2467.89, at the time of writing.
📰Some specifics:
Dow Jones is down 0.46% to 32,001.25.
Nasdaq Composite is down 1.73% to 10,342.94.
S&P 500 is down 1.06% to 3,719.89.
Hang Seng Index down 3.08% to 15,339.49.
🧠Some quick factors to bear in mind:
World equalities tumbled, US Treasury yields rose and the dollar strengthened after the Fed signaled rates would likely peak higher than markets had expected.
Major indexes closed lower, led by a big selloff, with Apple down over 4%, its longest slide since 2019. The Fed shifted the outlook on its tightening monetary policy, and investors are shifting their focus away from how much the next rate hike is to the peak level. The Fed has made history with the fourth straight three-point rate hike, bringing it to the highest since 2008, and it's triggering recession fears around the world.
Daylight savings is going down on November 6 in the US – the time will be one hour earlier, and trading hours will be from 22:30 to 05:00 HKT.
In the UK, the pound fell after the BoE raised rates by 75 basis points to 3% from 2.25%, the most significant rate hike in 33 years, to fight inflation. BoE warned investors to expect higher hikes in the future.
In Hong Kong, the market opened lower, with HSI down over 3%, and stocks continued to decline on Thursday as HKMA and HSBC raised their key interest rates to align with the Fed.
👄Some comments and chatter:
"We've done 400 basis points in eight months – one of the steepest ascents in tightening in history – and to not sit back and see for a few months how the data comes in is just reckless," said Thomas Hayes, chairman at Great Hill Capital.
"The Fed, along with other major central banks, looks likely to keep tightening rates until the first quarter of 2023. Economic growth will likely continue to slow into the start of the new year, and global financial markets are vulnerable to stress while monetary policy continues to tighten. Such headwinds have yet to be fully reflected in earnings estimates or equity valuations," said Mark Haefele, chief investment officer at UBS Global Wealth Management.
"The pound has been slipping against the resurgent dollar all morning but notably it has fallen against the euro also following the BoE announcement and the perception that this was a dovish hike," said the head of FX strategy at Rabobank, Jane Foley.
🛢Oil: Oil prices slipped on Thursday as the US rate hike pushed up the dollar and growing fears of a global recession causing sluggish demand. US crude fell 2% to US$88.17 and Brent dropped 1.5% to US$94.67 per barrel.
👛Bitcoin: Bitcoin was up 0.21% to US$220,193.40 at the time of writing.
📩Netanyahu's road to victory: Benjamin Netanyahu might just resurrect his political career, coming back as the prime minister of Israel after being ousted under accusations of corruption. Wednesday's partial election results show that his bloc is set to win 65 seats in the 120-seat Knesset. He's now likely to lead one of the most right-wing governments in Israel's history.
🔫Imran Khan shot: Former Pakistan PM Imran Khan was shot at a rally on Thursday in what was seen as a targeted attack. The attack happened while Khan was in Wazirabad, eastern Pakistan, at a protest march to the capital, Islamabad. He got shot in both legs but is in stable condition.
🧱Poland/Russia border wall: Poland is ready to construct a new barrier along its border with the Russian region of Kaliningrad. This move comes in an effort to make the country feel more secure.
🧊Major glaciers melting: UN researchers found that glaciers in a third of the Earth's parks and protected areas will disappear by 2050, no matter if we slow down global warming.
⛵Migrants stranded in Med: Three boats with almost 1,000 rescued migrants urged Italian or Maltese authorities to open one of their ports to them, saying those onboard needed urgent assistance. These boats are operated by Doctors Without Borders, SOS Mediterranee and SOS Humanity and have been on the Mediterranean for more than a week. They haven't been allowed to dock.
🗺UN troops withdraw from DRC: The UN peacekeeping mission in the Democratic Republic of the Congo (DRC) withdrew troops from its eastern military base, giving up ground to the M23 rebel group. These troops have been supporting DRC forces against the M23, which seized the town of Kiwanja on Saturday.
💬UK minister under fire: The UK's interior minister, Suella Braverman, is under fire for characterizing the movement of migrants to the UK as an "invasion." She said this just days after an immigration center was attacked with firebombs. She used this term in a speech defending conditions at a processing center for new arrivals where about 4,000 people have been held in a facility intended for 1,600.
🐤Twitter layoffs: Elon Musk, the new owner of Twitter, is reportedly planning to fire about half of Twitter's workforce (3,700 people) on Friday. He'd already denied reports that he would lay off 75% of workers. The exact number of firings may still change.
🍁Canada's record immigration target: Canada is ready to welcome 500,000 new permanent residents in 2025 (a new record), boosting its targets over the next two years to close its labor gap. Canada will try to welcome 465,000 new permanent residents in 2023, up 4% from a previous target, and 485,000 in 2024, up 7.5%.
🤝Hong Kong free-trade: Hong Kong is gaining early admission into the Regional Comprehensive Economic Partnership (RCEP), which is one of the world's largest free-trade agreements. It connects 15 APAC countries, 10 of which are also ASEAN members.
🕊Ethiopia peace deal: Ethiopia's conflicting sides (the official government and the Tigray Liberation Front) have agreed to stop fighting. This may motivate an end to the two-year war between them that has displaced millions and nearly destabilized much of Africa.
🧀Best cheese 2022: 250 international judges assessed tons of cheese to decide on the winner of the 2022 edition of the World Cheese Awards. This year's winner is a gruyère from Switzerland chosen by top judges from a final 16 contenders. Le Gruyère AOP surchoix, entered by Swiss maker Vorderfultigen and affineur (refiner) Gourmino, is truly the big cheese. Also, how do we apply for this job?
Written and put together by Joey Fung, Vanessa Wolosz, and Christine Dulion