Ukraine-Russia War
From Pussy Riot's new protest song to the GOAT of goat farming – Here's your December 28 news briefing
If you're not familiar with Pussy Riot, you should be.
A few minutes every morning is all you need.
Stay up to date on the world's Headlines and Human Stories. It's fun, it's factual, it's fluff-free.
To start off, we're looking into:
Russia's Pussy Riot releases a new single
The backstory: If you're not familiar with Pussy Riot, you should be. This Russian punk band has a long history of using bold protests to speak out against Putin's government.

More recently: Members and associates of the group were detained at the 2022 FIFA World Cup during a match between France and Argentina after they tried to enter the pitch to protest issues like the Russia and Ukraine conflict and women's rights in Iran.

The development: The group has now released a new anti-war song called "Mama, Don't Watch TV" that criticizes Putin's decision to invade Ukraine and the government's censorship of its opponents. In a statement, Pussy Riot describes Putin's government as a "terrorist regime" run by "war criminals." They also call for the West to stop financing Russia's war by buying its oil and selling it weapons, and they propose creating an international court to "try" Putin and his allies for the war.
The music video is also pretty graphic, including a scene of a member urinating on a photograph of Putin.
AI-powered farming – the future of goat rearing?
The backstory: Huang Zhen was just your average finance guy, climbing the corporate ladder in Shanghai. Fast forward 14 years, and he's quit his job to become a farmer on Chongming Island. But he isn't your typical farmer, and his farm isn't your regular farm.
Let's back up a bit. During goat birthing season, there's anywhere from a 4-10% mortality rate (depending on the season). So Huang, believing there was a solvable problem here, co-developed an AI system with Chinese food delivery giant Meituan's visual intelligence team. It uses sensors and AI to monitor the goats and warn farmers when they are ready to give birth, helping reduce the risk of complications and death for the goats.
The development: Now, he's taking the agriculture industry by storm with his innovative use of AI technology on the farm. Last week, a video of him explaining his modern farm went viral on Chinese social media. His use of AI and advanced technologies has set a new standard for contemporary farming and is a model for other farms to follow.
Zelenskiy and Modi talk
The backstory: When Russia announced a special military operation into Ukraine last year, over 140 countries condemned the move, five supported it, and 35 didn't take a stance. Out of the 35, India and China were included. Meanwhile, India has become one of the largest buyers of canceled Russian oil. But to make India's stance even murkier, its leader asked Putin to move toward peace.

More recently: When world leaders met up in Indonesia for the G20 summit, they, including Indian Prime Minister Modi, issued a collective statement condemning the war. Ukraine President Zelenskiy also presented a 10-point peace plan to end the conflict.
The development; On Monday, Zelenskiy and Modi talked about the war, with Zelenskiy asking Modi for help in getting the ball rolling with its peace formula. This comes as India is seeking to boost trade ties with Russia. Both countries are hopeful for future collaboration, but it's still not clear if India will take a strong stance on the war.
To end, we'll look into:
South Korea's take on sex dolls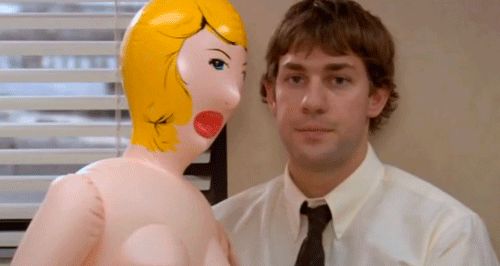 Most people would say that what adults do with their money is their own business. But South Korea has an interesting history of trying to regulate the ahem adult market. We're talking about sex dolls, more specifically.
Back in 2019, a petition circulated around South Korea calling for a national ban on importing life-size sex dolls. And it got over a quarter of a million signatures. With that many signatures, the president's office legally had to respond to this demand.
The petition was created after Seoul's High Court decided that the government shouldn't treat sex dolls the same way as pornography – which is highly regulated but legal – and that these kinds of toys are for personal use. So, the author of the petition argued that more imported sex dolls would lead to more sex crimes.
The thing is that even though sex dolls aren't illegal, government customs agencies have been blocking their import because of a law that limits things that "harm the country's beautiful traditions and public moral." So, since 2018, thousands of these dolls have been seized by customs.
Because of all of the confusion and restrictions, importers brought their complaints to court. Their main argument was that because sex dolls are used in private, personal spaces, there's no harm being done to human dignity.
Now, customs officials have decided to lift the ban entirely, with one major exception: dolls that embody the likeness of real people or those that resemble children. That's probably for the best. On Monday, the Korea Customs Service said that "customs clearance of full-body real dolls in adult shape is allowed."
After this decision was announced, Lee Sang-jin (CEO of an online adult market) said: "We thought our people's rights to seek happiness and use [sex dolls] in their private lives have been restricted by the state. There are various types of people who use [sex dolls], including those who are sexually alienated or those who need them for artistic purposes."
In other news ...
📉Stocks: MSCI's global gauge of stocks is down 0.03% at 2600.15 at the time of writing.
📰Some specifics:
Dow Jones is up 0.11% to 33,241.56.
Nasdaq Composite fell 1.38% to 10,353.23.
S&P 500 lost 0.41% to 3,829.25.
Hang Seng Index re-opens later this morning.
🧠Some quick factors to bear in mind:
The US market re-opened on Tuesday with a loss in S&P 500 and tech-heavy Nasdaq Composite after taking a day off for Christmas on Monday.
Chinese stocks in the US rose as investors cheered on China's step to re-opening the country by ending mandatory quarantine for inbound travelers starting January 8.
Tesla dipped more than 11% after the news of a temporary production halt in China, which sparked fears of demand risk.
US Treasury yields rose to the highest level since November by around 10 basis points to trade above 3.80%. So, growth stocks, like tech stocks, took a dip on Tuesday because of added pressure.
In the final week of stock trading in 2022, investors hope to end the year with a Santa Claus rally (where stocks tend to trade higher at the end of the year). But, with recession fears still looming, we will have to wait and see.
The Hong Kong stock market is closed for the Christmas holiday on Tuesday and will re-open today.
👄Some comments and chatter:
"It's basically the continuation of high yields depressing growth, with redistribution into other sectors that are smaller, but not big enough to change the headline index," said Keith Lerner, Truist's co-chief investment officer on the climb of US Treasury yields.
"We may get a pivot later on next year from the Federal Reserve where they actually start cutting rates, but that's going to happen when the situation is going to become much more dire than it is now," said Matt Maley, chief market strategist for Miller Tabak + Co., to Bloomberg.
🛢Oil: Oil prices stayed steady after hitting a three-week high on Tuesday as some energy plants shut down from winter storms in the US resumed operations, and China announced an end to quarantine for travelers in January. US crude settled at US$79.53, and Brent gained 0.5% to US$84.33 per barrel.
👛Bitcoin: At the time of writing, Bitcoin is down 0.04% at US$16,691.40.
✈The Chinese travel rush: China recently announced that it would be dropping the mandatory COVID quarantine period for foreign arrivals. On top of this, from January 8, citizens can start traveling outside of the country again. With this, travel sites are seeing a boost in traffic as Chinese residents start looking to travel outside the country for the first time in three years.
🚗Serbia and Kosovo tensions: Serbia doesn't recognize Kosovo as its own country, and the ethnic Serbs who live in northern Kosovo don't want to adopt the necessary documents, like license plates, identifying them as residing in Kosovo. Now, ethnic Serbs are putting up more roadblocks and won't remove them, which comes after Serbia put troops near the border.
⛽Putin's new oil ban: As the G7 continues to try to put pressure on Russia with its new oil price cap (US$60 per barrel) against Russia, which went into effect earlier this month, Russia isn't backing down. Putin just officially signed a law banning sales that give into the US$60 price cap with some exceptions.
⚡Ukrainian blackouts affect medical devices: Russia's strikes on Ukraine have been targeting important infrastructure, like power grids, which have caused long-term blackouts all over the country. Now, an issue is coming to light: lifesaving digital medical devices can't get the power they need.
✉Another Japanese cabinet member resigns: After former PM of Japan, Shinzo Abe, was assassinated because of links to the controversial Unification Church, the government still hasn't recovered. Japan's current PM, Fumio Kishida, has had three cabinet ministers resign, with his administration being riddled with scandal. Now, he's ordered a fourth cabinet member to quit: Kenya Akiba, the reconstruction minister who's been accused of various things like election law violations and ties to the Unification Church.
📄Class action against Apple: A few days ago, a class action lawsuit was filed against Apple in New York. The suit claims that the Apple Watch's blood oxygen sensor doesn't really work for darker skin tones.
📉Tesla stock woes: Earlier this year, Tesla CEO Elon Musk bought Twitter after a dramatic "Will he? Won't he?" hoopla. Now, some investors think he's distracted, and Tesla shares are dropping. A slowing global economy and issues in Chinese factories also spell trouble for the company. Tesla stock has lost 70% of its value this year, and it's continuing to slip, dropping 9% on Tuesday.
🛶Rohingya refugees rescued: In 2017, a genocide of the stateless Rohingya people began in Myanmar, and many fled to Bangladesh. Back in November, a ship carrying over 200 Rohingya refugees from Bangladesh was headed toward Malaysia when its engine is thought to have cut out, sending it drifting around the sea for weeks. Finally, on Monday, 185 of the refugees were rescued in Aceh, Indonesia.
❄Mars' Winter Wonderland: NASA has released some new info on Mars' winters, just as we experience Earth's. Some highlights: snow falls in tiny cubes instead of snowflakes; as the ice thaws, it takes on bizarre shapes and explodes as geysers; and snow comes in both water ice and carbon dioxide (dry ice). Plus, winter lasts for two years on Mars.
📔Harry's "Spare": After the widely popular but controversial "Harry & Meghan" Netflix series, Prince Harry is gearing up to publish a memoir in January. But some are wondering, after a tell-all with Oprah and a six-hour Netflix documentary, what else is there to say? In terms of the name, the memoir is called "Spare," likely referring to the phrase "the heir and the spare."
Written and put together by Joey Fung, Vanessa Wolosz and Christine Dulion