Business
From Hong Kong's crypto moves to bringing back the woolly mammoth – Here's your February 1 news briefing
For example, one company, Matrixport, is reportedly considering Hong Kong as its new home base.
To start off, we're looking into:
A look at Hong Kong's crypto landscape
The backstory: After the recent FTX collapse, the crypto dominoes fell. Other companies followed suit and defaulted, including BlockFi, Voyager, Genesis Global and more, leaving creditors owed billions of dollars. And, as for Hong Kong, it's had a pretty skeptical stance toward crypto over the past few years with tough regulations in place.
More recently: Social unrest and COVID curbs throughout the pandemic led to a "brain drain" that threatened Hong Kong's status as a global financial hub. So, Hong Kong has been determined to rise above these challenges and crypto's setbacks to become the leading crypto hub in Asia. The city has been working on legalizing retail trading by March and creating a friendlier environment for digital assets.
The development: For example, one company, Matrixport, is reportedly considering Hong Kong as its new home base. But, Hong Kong's crypto regulations are still being developed, making it difficult to know if it's the right move. But, Hong Kong has said it aims to learn from the sector's recent mistakes and create a new regulatory framework to boost confidence and growth.
Meta's UK data rights lawsuit
The backstory: Tech giant Meta has been under fire globally for its business practices and dominant grip on the market. This month, the EU hit Meta with a €5.5 million (about US$5.9 million) fine for breaking General Data Protection Regulation (GDPR) rules with WhatsApp. This was on top of other fines on Facebook and Instagram for similar reasons. Meanwhile, the US has also been looking at Meta's practices to determine if it's anti-competitive.

More recently: In 2020, legal academic Liza Lovdahl Gormsen filed a lawsuit against Facebook (now Meta) on behalf of about 45 million UK users, saying the company had monetized their data without compensating them properly. The lawsuit said Facebook took advantage of its power to convince users to give up their personal information, which was then sold for profit through targeted ads.

The development: On Monday, Meta attempted to block this massive lawsuit worth up to US$3.7 billion by asking a London tribunal to dismiss it. Lovdahl Gormsen's lawyers argued that Facebook users should receive compensation for the value of their data used by the platform for profit. But, Meta rejected the lawsuit as "entirely without merit" and said the alleged losses disregarded the "economic value" provided by Facebook.
Lost radioactive capsule in Australia
The backstory: On January 10, mining company Rio Tinto in Western Australia transported equipment from a desert mine site to Perth. The truck arrived at a Perth depot on January 16. But, on January 25, the company notified local authorities that a radioactive capsule on board had gone missing. The capsule, a Caesium-137 ceramic source, is used in radiation gauges. This material gives off radiation equivalent to receiving 10 X-rays in an hour and can cause skin burns and cancer if there's longtime exposure to it. And it will be difficult to find, as it's only 8 millimeters by 6 millimeters. Authorities have even warned that it could possibly get unknowingly lodged on someone's car tire.

The development: The hunt is on for this capsule. As soon as authorities found out about this accident, officials were sent out to look for it. On Monday, the Department of Fire and Emergency Services said it would take about five days to retrace the truck's route. On Tuesday, it said that 660 kilometers had already been searched. That same day, Australian authorities sent out more people and specialized equipment to detect radioactive material. They believe the capsule fell off the truck along a 1,400-kilometer section of the Great Northern Highway, which, for perspective, is longer than the California coastline.
To end, we'll look into:
Bringing the woolly mammoth back
Right now, we're on the brink of Earth's sixth mass extinction period – this one brought on by human activity. But it's possible that even after a species goes extinct, it can be reincarnated. We've known this is possible in theory for years now, but one company is actually putting the concept to the test.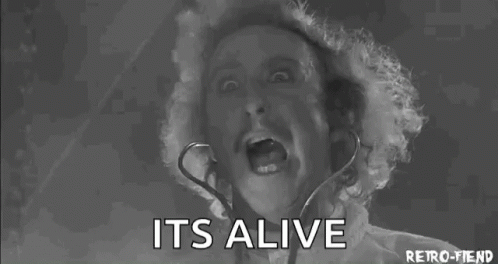 Colossal Laboratories and Biosciences is a biotech and bioscience company specializing in animal conservation and, more remarkably, genetic engineering to bring back long-extinct species. Its sights are set on two animals in particular: woolly mammoths and the Tasmanian tiger. The company's recently added the dodo to that list, too.
And that woolly mammoth thing isn't so much a pipe dream as it is a foreseeable reality. That's right; the mammoth is coming back. Maybe…
Just a bit of context – the last of the woolly mammoths went extinct around 1650 B.C., so humans have definitely encountered them, just not in a long while. Now, Colossal is saying that it has the technology and the personnel to create live woolly mammoth calves by 2027. Last year, the firm got US$60 million in additional funding, which has really propelled this project forward. Even though it began in 2021, Colossal has an actual timeline now with feasible results.
Because woolly mammoth DNA is a 99.6 percent match to the Asian elephant, the Colossal team has a relatively small genetic gap to fill in order to bring back the species. "In the minds of many, this creature is gone forever," the company says. "But not in the minds of our scientists, nor the labs of our company. We're already in the process of the de-extinction of the Woolly Mammoth. Our teams have collected viable DNA samples and are editing the genes that will allow this wonderful megafauna to once again thunder through the Arctic."
The process goes like this: Colossal scientists will create an embryo of a woolly mammoth through the process of gene editing (essentially, cutting and replacing certain DNA strands). They'll place that embryo in an African elephant, where it will grow into a baby mammoth, and the elephant will give birth to it. After years of perfecting this process and seeing how things go, Colossal wants to repopulate the parts of the Arctic with mammoths.
In other news ...
📈Stocks: MSCI's global gauge of stocks is up 0.93% at 2,785.00 at the time of writing.
📰Some specifics:
Dow Jones is up 1.09% to 34,086.04.
Nasdaq Composite rose 1.67% to 11,584.55.
S&P 500 climbed 1.46% to 4,076.60.
Hang Seng Index declined 1.03% to 21,842.33.
🧠Some quick factors to bear in mind:
US stocks rose on Tuesday, with the S&P 500 posting its best January since 2019. Investors also received some positive inflation news ahead of the Fed's interest rate decision on Wednesday.
Traders are widely expecting to see a 25 basis point increase.
The employment cost index, a key measure of wages looked at by the Fed, showed a 1% increase in compensation during the fourth quarter. This was below the 1.1% forecast from Dow Jones.
This week, investors are preparing for over 100 big-name earnings reports from the S&P 500, including Apple, Amazon, and Alphabet (Google's parent).
In China, stocks took a dip on Tuesday, taking a break from their recent rally.
BYD's stock rose 2.3% to a near five-month high due to record-high sales projections. Meanwhile, tech heavyweights, such as Alibaba Group, Tencent Holdings, JD.com, Wuxi Biologics and Sunny Optical Technology, all tumbled.
A recent government report also showed an encouraging rise in the official PMI manufacturing index.
👄Some comments and chatter:
"Especially ahead of a Fed press conference, something like this equity market rally is kind of explicitly against what they want, and they have been pretty clear the market rallying on what they expect the Fed to do is counter-productive. We do feel like we've gotten a bit ahead of ourselves here even if we are closer to the end of the Fed hiking cycle than the beginning." said Ross Mayfield, investment strategist at Baird in Louisville, Kentucky.
"The market has been running a bit hard in the short term. Some stocks may not see much room for further gain before real fundamental recovery [is established]. More proof of consumption and property recovery could boost investor confidence," said Willer Chen, senior analyst at Forsyth Barr Asia in Hong Kong, referencing the China stock market.
🛢Oil: Oil prices closed steady on Tuesday, with Brent up 1% to US$85.46 and the US WTI up 1.3% at US$78.87.
👛Bitcoin: At the time of writing, Bitcoin is up 0.34% at US$22,910.30.
🇺🇦Ukraine's use of landmines: Last April, the city of Izyum in Ukraine was under Russian occupation. But, that area of Kharkiv was liberated by Ukrainian forces in early September. Now, Human Rights Watch has said that Ukraine should investigate its "apparent use" of banned antipersonnel landmines scattered around the area that have led to civilian deaths.
🇯🇵NATO and Japan strengthen ties: With Russia's invasion of Ukraine, there's a lot of global security tension with the West. NATO chief Jens Stoltenberg has been on a trip through Asia and visited South Korea, urging it to increase military support for Ukraine. Now, in Japan, Stoltenberg and Japanese PM Fumio Kishida have pledged to strengthen ties in the face of this instability.
🇮🇶Drone attacks at Iraq-Syria border: Iran is experiencing a lot of tension with its surrounding rivals in that region of the Middle East. On its border with Syria, Iran-backed militias have a stronghold. On Sunday night, drones reportedly attacked a convoy of trucks in eastern Syria right after it crossed over the border from Iraq.
🇺🇸US and South Korea strengthen defense: As North Korea continues to pull off missile tests and become more of a nuclear threat, South Korea is looking to boost its own defense measures. On Tuesday, US Defense Secretary Lloyd Austin announced that the US will increase sending advanced weapons to South Korea. The US also amped up joint training and operational planning with South Korea.
🇫🇷New wave of strikes in France: The French still aren't buying into Macron's pension reform of bringing up the retirement age from 62 to 64. After a nationwide strike earlier in January, a new strike went down on Tuesday. Train lines were down, refinery deliveries were disrupted and even schools were interrupted.
🇸🇮Slovenia arrests two suspected Russian spies: Back in December, two people were arrested in Slovenia for suspected espionage. On Monday, media reported that these two were alleged Russian spies suspected of using a real estate and antiques agency as a front for their activities.
🇦🇿Azerbaijan and Armenia go to World Court: Two years after their formal territory conflict ended, friction has been rising between Azerbaijan and neighboring Armenia. Recently, the UN court's headquarters in The Hague took on a pair of cases brought in by Armenia and Azerbaijan alleging breaches of a convention to prevent racial discrimination. Azerbaijan is claiming that thousands of its citizens have been killed by landmines planted by Armenia since the conflict ended, and Armenia is accusing Azerbaijan of ethnic cleansing with its road blockades.
👀IMF raises growth outlook: Everyone's been waiting for the shaky global economy to take a turn for the worse. But that may not happen. Now, the IMF has an improved economic outlook, brought on by China's reopening and the US' economic resilience, along with India's economic growth.
✈️The last Boeing 747: Over 50 years ago, the Boeing 747 was unveiled, making air travel more accessible to the masses. On Tuesday, Boeing shipped off its final Boeing 747, ending production on this aircraft. RIP.
💉Marburg vaccine trials: The Marburg virus is a deadly, potentially pandemic-causing, but slightly less virulent cousin of Ebola. But, the results of the first human trial testing of an experimental Marburg vaccine were just published, and they look promising. This is the first Marburg vaccine that will move into Phase 2 human trials.
🐅Loose tiger captured in South Africa: A tiger had been roaming a residential area near Johannesburg, making it the second incident of a tiger at large in as many weeks. South African animal welfare officials were able to sedate and capture it and believed the tiger could be an escaped pet.
✔Nike sues Lulu: Nike is suing Lululemon for patent infringements over at least four of the company's shoes. This marks the continuation of the legal battle between the two, with Nike having already sued Lululemon for patent infringement related to its tech products in January last year. "Nike's claims are unjustified, and we look forward to proving our case in court," a Lululemon spokesperson said in a statement on Tuesday.
Written and put together by Joey Fung, Vanessa Wolosz, Shebby Farooq and Christine Dulion