Entrepreneurship
From Silicon Valley Bank going bust to a new Twitter competitor – Here's your March 13 news briefing
Founded in 1983, Silicon Valley Bank was a key player in the tech startup world.
A few minutes every morning is all you need.
Stay up to date on the world's Headlines and Human Stories. It's fun, it's factual, it's fluff-free.
To start off, we're looking into:
Silicon Valley Bank goes bust
The backstory: Founded in 1983, Silicon Valley Bank (SVB) was a key player in the tech startup world. In fact, it had financed nearly half of all US venture-backed tech and healthcare companies – an impressive feat for a bank that was relatively unknown outside of the Silicon Valley bubble. The bank was also ranked among the top 20 commercial banks in the US, boasting US$209 billion in total assets at the end of last year.
More recently: Things started getting sticky for SVB when the Fed raised interest rates to combat inflation, resulting in higher borrowing costs. This put a damper on tech stocks that helped SVB out. On top of that, SVB's bond portfolio worth US$21 billion was sold off to raise cash – at a US$1.8 billion loss.
The development: On Wednesday, the final straw came when SVB announced it needed to raise US$2.25 billion to help balance its books following the loss. This caused a panic among venture capital firms, who began telling their clients to pull their money out of SVB. On Thursday, the bank's stock plummeted around 80% into extended trade hours amid the panic, and customers withdrew around US$42 billion by the end of the day. Things went downhill pretty fast from there for the 40-year-old bank.
On Friday morning, trading in SVB shares was halted, and California regulators had to step in and shut down the bank, placing it in receivership under the Federal Deposit Insurance Corporation (FDIC). This event marks the largest collapse of a US bank since the infamous 2008 financial crisis.
China's new premier
The backstory: China's economy is still recovering from the impact of years-long COVID restrictions, and it faces more challenges amid growing tensions with Western nations. And this year, China's set to get a new premier, the number two position in the country. The new premier will replace the outgoing Li Keqiang, who's held the position since 2013. One of the role's primary responsibilities is overseeing the State budget and economy.
More recently: Last year, China's economy grew by about 3%, which is pretty low by previous standards and short of the official target of 5.5%. This year, on the opening day of parliament, the country announced a modest 2023 growth target of around 5%, which is the lowest target in almost 30 years.
The development: China has a new premier in town, and his name is Li Qiang. He just took over the position from his predecessor on Saturday.
Li's first international debut as China's premier will be on Monday during a traditional media Q&A session after the parliamentary session ends. His primary challenge this year is to exceed the growth target without causing inflation or adding to China's debt.
China brokers Iran and Saudi Arabia deal
The backstory: There have been years of bad relations between Saudi Arabia and Iran. Relations soured after the Saudi embassy in Tehran was raided by Iranian protesters demonstrating against the mass execution of 47 people in Saudi Arabia in 2016. One of the people executed was Saudi Shia cleric Nimr al-Nimr, who'd led protests for more rights for the Shia minority in Sunni Muslim-led Saudi Arabia. Since then, tensions have gotten worse until a massive missile and drone attack on Saudi Arabia's oil infrastructure in 2019 led to a critical cut in global oil production. Saudi Arabia accused Iran of being behind the attack, which Iran denied.
More recently: The two countries have been fighting a proxy war in Yemen and also supported opposite sides in other Middle-Eastern conflicts and disputes. Since 2021, they've been having talks in Iraq and Oman. China has been looking to mediate peace between Iran and Saudi Arabia, especially since it has ties with both countries and buys oil from each of them. Iran's president also recently visited China.
The development: Last Friday, Saudi Arabia and Iran re-established diplomatic ties for the first time in seven years through a deal brokered by China. Over the next two months, their embassies will re-open, and diplomatic missions will restart, meaning their foreign ministers can begin meeting again. This peace deal has far-reaching consequences in the region and was received positively by the West.
To end, we'll look into:
Competition for Twitter?
A while ago, we did a story on Mastodon, a popular decentralized platform that people are leaving for after Elon Musk's takeover of Twitter. But it looks like Twitter could have an even bigger rival on the scene in a few months. Meta, the parent company of Facebook and Instagram, is reportedly developing a Twitter alternative.
"We're exploring a standalone decentralized social network for sharing text updates. We believe there's an opportunity for a separate space where creators and public figures can share timely updates about their interests," a Meta spokesperson said.
New reports say that this social network, codenamed P92, will be "Instagram-branded," and will use Instagram tech. This means that the app could become a new branch of Instagram for text-based posts, and users would log in using their Instagram accounts. Following Instagram's new "Notes" feature rolling out, this news doesn't come as a total surprise.
After Meta confirmed this development, Elon Musk reacted to the news, responding to Dogecoin co-founder Billy Markus' tweet that mentioned it, just saying, "Copy 🐈."
P92 uses ActivityPub as social networking protocol to stay decentralized. This means that users set up their own servers with their own content moderation rules. Posts will be available across servers, but it's not clear whether or not users will be able to follow one another without being active on the mutual servers.
Other features that Meta wants to be available on P92 are usable links for posts with previews, shareable media and verification badges. All of these things are currently available on Twitter. But Twitter has been running into so much trouble lately (mass layoffs, controversial Elon Musk decisions, strange glitches and tech issues).
But, last year, former Twitter engineer Blaine Cook said, "I think the diversity of protocol is important, as is the diversity of the applications built on top of the protocols. That said, I strongly believe that interoperability between ActivityPub and Bluesky won't be difficult. The only thing preventing, for example, interoperability between Twitter and Facebook's timeline has been protectionist policies by those companies."
In other news ...
🌀Cyclone Freddy wreaks havoc and breaks records: Cyclone Freddy already touched down in southeastern Africa in February, but it's made its way back to Madagascar and now Mozambique for a second round of destruction. On Sunday, Freddy touched down again in Mozambique. It's caused massive destruction and displaced hundreds of people. Freddy is breaking records for storm longevity and strength.
📢Massive Israel protest: For weeks, thousands of people have been staging protests in Israel, especially in Tel Aviv, against Netanyahu's proposed weakening of Israel's judiciary. On Sunday, hundreds of thousands of people demonstrated against this policy in what was reportedly one of the biggest protests in Israel's history. There were as many as 500,000 protesters in the streets, according to organizers.
🛶Italy's coast guard brings hundreds of migrants to shore: Earlier this month, a migrant ship sank in the Mediterranean on its way to Italy, resulting in dozens of deaths. On Saturday, Italy's coast guard and navy ferried in hundreds of migrants from two other boats. The rescue operation began on Friday but was complicated by sea and weather conditions.
👮‍♂️Failed Russian plot in Moldova?: Moldova borders Ukraine and has a new pro-Western government. Over the past few weeks, there have been protests there organized by a group called Movement for the People, which is backed by Moldova's Russia-friendly Shor Party. Now, police are saying they've foiled a plot by Russia-backed actors to cause unrest during another Sunday protest against the government.
🌈Same-sex marriage in Indian supreme court: In 2018, India decriminalized homosexuality. In recent months, the Supreme Court has been getting appeals to recognize same-sex marriages as legal. On Sunday, India's government made a filing to the Supreme Court saying it opposes same-sex marriages and urged the court to reject challenges to the current law.
📄New UK/EU travel requirements: The UK has been looking to amp up its border security post-Brexit and recently proposed a controversial policy to turn away boat-coming refugees. Now, the UK is launching a plan for all visa-exempt travelers to be required to apply for digital travel authorization before entering. This should be in place by 2025. The EU is launching a similar authorization requirement called ETIAS in 2024.
📢Protests in the Netherlands: The Dutch government plans to limit nitrogen production for environmental reasons, which will affect the farming industry. On Saturday, more than 10,000 Dutch farmers protested at the Hague against this policy. There was another unrelated climate protest in the city against tax rules that protesters say encourage fossil fuel use.
✈Saudi Arabia starts a new national airline: On Sunday, Saudi Arabia's Crown Prince Mohammed bin Salman announced the creation of a new national airline, Riyadh Air. Riyadh Air plans to serve over 100 global destinations by 2030
🚗EV production in Canada: Canada is one of North America's major car producers. Now, it's looking to keep auto production strong in the country by shifting to building EVs. Volkswagen and Tesla are actively looking toward Canada for a new battery or assembly plant. Ford, General Motors, Honda, Stellantis and Toyota already have production facilities in Ontario.
🤑Saudi Aramco's record profits: On Sunday, Saudi Aramco (Saudi Arabia's national oil company) reported its net income for 2022 to be over US$161 billion, a 47% increase from 2021. This is partly because of the price of oil increasing, restrained production and increased demand. Saudi Aramco believes oil demand will stay strong even with concerns about climate change.
👨Elon Musk-ville: In typical Dr. Evil fashion, Tesla, Twitter and SpaceX CEO (and founder of The Boring Company) is reportedly planning to build his own town for himself and staff to live and work. Sources say he's bought around 3,500 acres of land outside of Austin, Texas, near SpaceX and The Boring Company facilities. Plans for the "Texas utopia" called Snailbrook include over 100 homes, a school, a swimming pool and a rec center, as well as Musk's own private compound. This may be part of Musk's plan to offer affordable housing for company employees.
🤚Will Smith is "upset" by Chris Rock's "Selective Outrage": Remember the slap heard 'round the world at last year's Oscars? In case you've been living under a rock, actor Will Smith got on stage and slapped host Chris Rock after he made a jab about Smith's wife's shaved head. In true comic form, Rock decided to vent about the incident in his most recent stand-up special on Netflix, "Selective Outrage." Apparently, Smith heard about his bit and isn't too happy, saying he already tried to apologize and Rock should "let it go."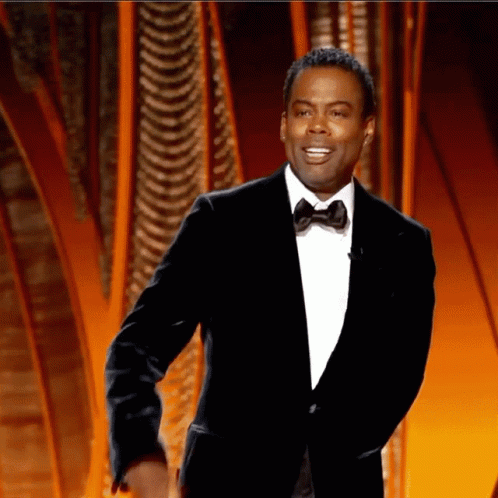 👩‍🚀Astronaut crew lands back on Earth after five months: Last October, two NASA astronauts, a Japanese astronaut and a Russian cosmonaut went to the International Space Station on a SpaceX Crew Dragon capsule. While up there for five months, they did research experiments and maintained the station. They arrived back home on Earth on Saturday, landing in the Gulf of Mexico.
👙Berlin frees the nipple: A Berlin woman complained to the government that it's discriminatory to allow men to be topless at the pool but not women. Last Thursday, Berlin's government announced it would allow women to go topless at the city's public swimming pools.
☂It's raining … worms?: A video that seemed to show worms raining down in Beijing went viral over the weekend. The poster also said people carried umbrellas to protect themselves from the unusual downpour. Since then, various explanations have cropped up – from a looming apocalypse to the more likely inflorescences of poplar trees, which have flower clusters that look like fuzzy caterpillars.
Written and put together by Joey Fung, Vanessa Wolosz, Shebby Farooq and Christine Dulion