WORLD
From Singles' Day slumping to a not-so-baby shark – Here's your November 11 news briefing
To start off, we're looking into: What's the deal with Singles' Day? – In case you didn't know, Singles' Day is the biggest Chinese online shopping day of the year.
To start off, we're looking into:
What's the deal with Singles' Day?
In case you didn't know, Singles' Day is the biggest Chinese online shopping day of the year. Now, it's even bigger than Black Friday and Amazon Prime Day combined.
But this year, Singles' Day is facing some challenges. For one, consumer confidence is down because of COVID lockdowns and high inflation. Then, there are the after-effects of China's tech crackdown. For example, heavyweight Alibaba's sales forecasts this year are pretty gloomy. Don't forget about the celebs. Singles' Day has always hosted a ton of celebrities and influencers selling products – until recent scandals, from rape allegations to tax evasion, sent them running from the public eye. And, just last week, China put new regulations on celebrity advertising as part of its drive to align society and youth culture with "socialist core values."
FTX goes into panic mode
Get ready for a big plot twist. On Wednesday, investors were shocked when the world's largest cryptocurrency exchange, Binance, said it would buy out its rival, FTX, to help it get through a liquidity crunch. But, just 24 hours later, Binance peaced out from the deal after digesting FTX's serious financial woes and probes from US regulators.
FTX was once priced at a US$32 billion private valuation but is now facing its worst crisis. Aside from lacking cash, it's being investigated by US regulators over whether it mishandled customer funds.
On Wednesday, Bankman-Fried told investors the company might need to file for bankruptcy if nobody stepped in with the cash, according to insiders. So now, he's scrambling for a rescue package of up to US$9.4 billion to save the day.
Biden and Xi to meet
Tensions between China and the US have been growing over a few issues this year. For one, the US has been paying more diplomatic attention to Taiwan, which China sees as a threat to its claim over the self-governing island. Plus, China hasn't condemned Russia's actions in Ukraine, which the US isn't happy about. Most recently, the US put export controls on advanced semiconductors and related equipment sent to China, which is a blow to the Chinese tech industry.
With the G20 conference coming up next week, US President Biden and Chinese President Xi will talk beforehand on Monday. They are expected to talk on trade, North Korea and human rights – as well as Taiwan and Russia. US officials are hoping that the pair will be able to form a working relationship in areas like climate change and the economy.
To end, we'll look into:
The voter fraud myth, explained
In some countries, there's been a trend where certain politicians (ahem, you-know-who) have spread uncertainty about how legit voting systems are and the reliability of election results. It's become increasingly popular for politicians to claim the machines are rigged or minority voters are committing fraud on a huge scale to manipulate elections. And the voter fraud myth has gained a lot of traction among millions of people in several different countries.

Citing voter fraud, politicians can try to create laws that make voting harder – especially for BIPOC, lower-class, elderly and immigrant citizen voters. And the worst part is, there isn't any real evidence to suggest that mass voter fraud is actually happening anywhere. Now, if you want to talk about election interference, that's a different story (here's looking at you, Russia.)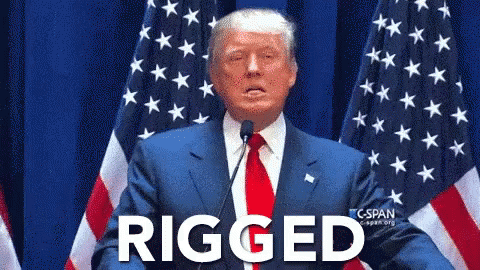 In the US, politicians at all levels of government have been claiming that the 2016, 2018 and 2020 elections were manipulated by thousands of illegal voters. Before this month's US midterm elections, former President Donald Trump spent a lot of time pushing conspiracy theories about vote-by-mail fraud.

But, according to the Brennan Center for Justice: "Fraud is very rare, voter impersonation is virtually nonexistent, and many instances of alleged fraud are, in fact, mistakes by voters or administrators. The same is true for mail ballots, which are secure and essential to holding a safe election amid the coronavirus pandemic." If you aren't sure, you can check out this giant list of studies that find voter fraud to be rare and negligible when it comes to election results.

This isn't happening just in the US. Politicians in other countries are adopting the myth of voter fraud when their team loses. After Brazil's recent presidential election, former President Jair Bolsonaro credited his loss to Lula to voter fraud. And, leading up to the election, he spent months publicly doubting the reliability of Brazil's electronic ballot boxes. But, on Wednesday, Brazil's Defense Ministry released a report confirming the election ballots were, in fact, genuine, and there was no evidence of fraud.

Israel faced a similar problem, with former (and future) Prime Minister Benjamin Netanyahu saying, "We are witnessing the greatest election fraud in the history of the country" as lawmakers were looking to kick him out of office. And in Germany, the far-right has spread doubt about vote-by-mail practices. Yet, in all of these cases, there hasn't been any solid evidence that supports their claims.
In other news ...
📈Stocks: MSCI's global gauge of stocks is up 5.05% to 2636.55 at the time of writing.
📰Some specifics:
Dow Jones is up 3.70% to 33,715.37.
Nasdaq Composite is up 7.35% to 11,114.15.
S&P 500 is up 5.54% to 3,956.37.
Hang Seng Index is down 1.70% to 16,081.04.
🧠Some quick factors to bear in mind:
In the US, stocks had their biggest rally since 2020 on Thursday as the market cheered at US consumer inflation data (CPI) rising more slowly than expected, raising investor hopes that inflation has peaked and maybe the Fed might slow its pace of rate hikes.
October's CPI, with a 0.4% increase for the month and 7.7% from a year ago, cooled to the lowest level since January, showing inflation continued to rise in October – but it's easing and came in lower than the expectation of 0.5%.
The US dollar fell sharply after the data showed inflation cooling and led Treasury yields to plunge on pace for their largest daily decline since March 2009.
Bitcoin clawed back Thursday to above US$17,000. A year ago, it hit an all-time high of US$69,000. Not such a happy anniversary for Bitcoin.
In Hong Kong, stocks fell on Thursday as investors braced for more scrutiny on Chinese tech companies. Hong Kong-listed tech giants' stocks declined, including Alibaba sinking 4.55%, JD.com falling 3.66%, Tencent declining 2.28% and Meituan losing 1.66%.
👄Some comments and chatter:
The surprise downside in headline and core CPI provides further evidence the economy is past peak inflation, said Joseph LaVorgna, chief US economist at SMBC Nikko Securities.
"One month of data does not a victory make, and I think it's really important to be thoughtful that this is just one piece of positive information, but we're looking at a whole set of information," said San Francisco Fed President Mary Daly in response to the CPI data.
"We are preparing for an environment where interest rates remain higher for longer. Investors should be more concerned with the effect that rising rates into a decelerating economy has on their portfolio values rather than the current level of inflation," said Michael Landsberg, chief investment officer of Landsberg Bennett Private Wealth Management.
🛢Oil: Oil prices settled 1% higher on Thursday after three-day declines as the better-than-expected US inflation data offset China demand concerns in the face of its COVID curbs. US crude rose 0.8% to US$84.67, and Brent rose 1.1% to US$93.67, per barrel.
👛Bitcoin: At the time of writing, Bitcoin was up 11.49% to 17,732.20.
🤒Uganda schools close early: Schools across Uganda will close two weeks early this term after 23 Ebola cases were confirmed among students, with eight of them dying. Preschools, primary schools and secondary schools will close on November 25 because densely packed classrooms make infection more easily transmittable.
🔒Guangzhou COVID outbreak: COVID infections are surging in Guangzhou, the capital of China's Guangdong province. Schools in much of the city have gone remote. And more and more parts of the city have started ordering people to stay home, asking non-essential businesses to close.
🔥Fossil fuel delegates at COP27: The number of delegates linked to the fossil fuel industry at COP27 has jumped 25% from the last conference. The campaign group Global Witness found that more than 600 people there have links to fossil fuels. For reference, that's more than the combined presence of the top 10 climate-impacted countries.
💶Germany blocks China sale: Germany just blocked the sale of a semiconductor factory to a Chinese-owned tech company due to security concerns. The deal had already been made last December.
🚫Women barred from Afghanistan amusement parks: In Kabul on Wednesday, Afghan women were stopped from entering amusement parks. Afghanistan's ruling Taliban morality ministry is setting restrictions on women's access to public parks. Then, on Thursday, the Taliban banned women and girls from using gyms.
💸Bangladesh IMF loan: The IMF is taking steps to provide a US$4.5 billion support loan to Bangladesh, which would help ward off an economic crisis. Bangladesh's economy was quickly growing, but rising energy and food prices, along with shrinking foreign exchange reserves, have piled on its import bill and account deficit.
💳UK freezes Russian assets: On Thursday, the British government announced that it had frozen assets of over 18 billion pounds (US$20.5 billion) held by Russian entities sanctioned over Moscow's invasion of Ukraine.
📱Apple restricts AirDrop in China: A new update has restricted the AirDrop feature on Chinese iPhones to only 10 minutes on the "everyone" setting. Some say this has to do with it being used to share anti-government images. Now, after the allotted time, it switches back to "contacts only." Apple hasn't commented officially but told Bloomberg that the feature would become available to global users "in the coming year."
😷COVID deaths drop: The WHO chief said on Wednesday that there's been a 90% drop in recent COVID deaths around the world from this past February. He still urged caution, though, as new variants continue to pop up.
🥚Throwing eggs: In the UK, a man threw eggs at the King and Queen Consort as they visited York. The protester shouted, "this country was built on the blood of slaves," as he was restrained following the egg-throwing. He's a student at the University of York and is being held on suspicion of a public order offense.
🐤Musk is a buzzkill: In his first email to Twitter staff, Elon Musk has ended remote work for the company's workers, saying he expects them all to put in a full 40 hours a week at the office. Before Musk took over, Twitter had a work-from-anywhere policy for its employees.
🦈Jumping the shark: A giant mako shark was caught on camera jumping out of the ocean. After it was accidentally hooked on a fishing line, the shark flew from the water and crashed onto the boat.
Written and put together by Joey Fung, Vanessa Wolosz, and Christine Dulion