Business
From a global plane shortage to the pickleball craze – Here's your December 29 news briefing
When the pandemic swept the globe in 2020, it goes without saying that air travel took a dive.
A few minutes every morning is all you need.
Stay up to date on the world's Headlines and Human Stories. It's fun, it's factual, it's fluff-free.
To start off, we're looking into:
Air travel is back, but we don't have enough planes
The backstory: When the pandemic swept the globe in 2020, it goes without saying that air travel took a dive, causing a tourism winter. Airlines were literally parking thousands of planes in different places worldwide – even deserts – just to find a place to store them. Now, with travel back in swing, some of these planes need heavy maintenance after being inactive for so long, or they may need to be phased out.
More recently: With China lifting its remaining COVID restrictions, demand for air travel is only expected to increase. And one thing is becoming increasingly obvious – we need more planes.
The development: Now, to cope with the continued air travel boom, airlines are placing more and more jet orders. Some carriers, including United Airlines and Air India, have put in hundreds of orders, but delivery might take years.
Are the Russia sanctions working?
The backstory: After Russia invaded Ukraine, the US and its allies began putting sanctions on Russia and individual Russian oligarchs and officials close to Putin. But Russia built itself a "financial fortress" before the war using money from energy revenue, as it supplies a lot of energy to countries around the world.
More recently: Sanctions on Russia keep piling up. They include oil embargos and price caps, cutting Russian banks off from the SWIFT financial messaging system, seizing billionaires' yachts and more. The international community has been questioning whether or not these sanctions have actually been working because the Russian economy is still moving, and the war in Ukraine doesn't seem to be ending any time soon.
The development: Analysts say that even though it's hard to see it from the outside, these sanctions have a big effect on Russia. One way is by looking at the Russian ruble, which has slowly been losing its gains from oil prices earlier this year. This is a sign that energy sanctions could be having an effect. And the IMF estimates Russia's economy will slip by 3.4% this year instead of growing.
Can pig organs help save humans needing a transplant?
The backstory: A shortage of transplantable organs is a major issue worldwide. The demand for organs far exceeds the supply, and many patients and their families end up waiting years for a donor organ to become available.
More recently: Scientists at Miromatrix, a life science company, are working on a solution to this problem, and one approach they're exploring is called decellularization. This involves removing the original cells from an organ while keeping the extracellular matrix in place. By removing animal cells from an organ, like a pig liver, and introducing new human cells to replace them, researchers hope to create functional organs that can one day be transplanted into humans.
The development: Decellularization is still in the early stages of development, so it's too early to tell how well it might work for organ transplants. Miromatrix hopes to test its bioengineered organs on humans in 2023.
To end, we'll look into:
Meet us at the pickleball court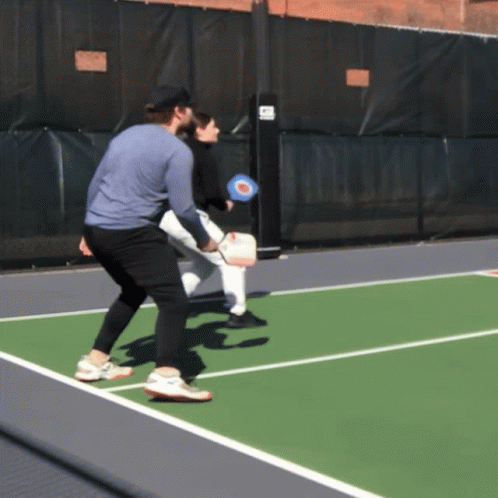 Don't hate on the name. Pickleball is the latest recreational sports craze. It's a racquet sport that's a little bit like tennis, ping-pong and badminton smushed together. And it became popular earlier on in the pandemic. It's easy to learn how to play, and the nets can be set up pretty much anywhere, so it's also super portable and accessible.
Even though it's only been gaining real traction in recent years, pickleball was actually invented in 1965 by three men just outside of Seattle, WA. Joel Pritchard, Bill Bell and Barney McCallum are said to have created the game for their bored children to play. Pritchard's wife, Joan, is thought to have named it pickleball because "the combination of different sports reminded me of the pickle boat in crew where oarsmen were chosen from the leftovers of other boats."
But Barney McCallum says it was named after the Pritchards' dog, Pickles, who liked to chase after the ball and run off with it. He says, "The Pritchards had a dog named Pickles, and you're having fun at a party, right? So anyways, what the hell, let's just call it pickleball."
Now, sports stars like Tom Brady, Kim Clijsters, Nick Kyrgios, Naomi Osaka and LeBron James are getting behind pickleball (the sport? the game?) by investing in its major league. There are five million active players in the US alone. And it's spread from the US to Europe and Asia (specifically India, China and Japan).

But it's not all fun and games. Apparently, pickleball is a pretty controversial topic. Tennis players have started to see pickleball as a threat. As sports journalist Jon Levy explains: "Other paddle sports have bubbled up over the years and attracted participants, but tennis remains a sport for more serious athletes and competitors. However, pickleball is making significant inroads on the casual player and has gobbled up court space and time. There's even a pro league backed by the likes of LeBron James and Tom Brady. If this trend continues, tennis could eventually be seen as the little brother in the relationship."
In other news ...
📉Stocks: MSCI's global gauge of stocks is down 0.99% at 2575.16 at the time of writing.
📰Some specifics:
Dow Jones fell 1.1% to 32,875.71.
Nasdaq Composite slipped 1.35% to 10,213.29.
S&P 500 lost 1.2% to 3,783.22.
Hang Seng Index boosted 1.56% to 19,898.91.
🧠Some quick factors to bear in mind:
For this year, there doesn't seem to be a Santa Claus rally, with global indexes on track to end the year down 20% – the worst year since 2008. And a few things are contributing to it.
Yes, the US is happy about the re-opening of China, the world's second-largest economy. Still, the surging case numbers plus the sudden COVID stance pivot is worrying a few, especially ahead of the Lunar New Year holiday in January.
We're also moving into 2023 with a lot of uncertainty and baggage from 2022. Recessionary fears, interest rate hikes, the war in Ukraine, limited energy supplies, you name it – all of which will just be waiting for us on the other side after our new year's debauchery.
The market cheered on Hong Kong's further lifting of the city's COVID restrictions, including removing mandatory PCR tests for inbound travelers, all social distancing measures and the vaccine pass scheme.
👄Some comments and chatter:
"The market appears to be exhausted, understandably, no longer expecting a large technical rally and just hoping to get to Friday afternoon without any further meaningful losses," said Louis Navellier, founder and CIO of growth investing firm Navellier & Associates. "Most of the year's major uncertainties: China [and] COVID, the war in Ukraine, tight energy supplies and hawkish central banks, will be waiting for us on the other side."
"A lot of institutional investors have been very underweight Chinese equities," said Carlos Asilis, co-founder and CIO at Glovista Investments. "And I think that that's been a mistake, because it has ignored this very important potential baseline case which is now being priced in, which is that of the Chinese economy undergoing next year a similar recovery path that we saw this year in the case of the United States."
🛢Oil: Oil prices tumbled on Wednesday as investors digested COVID news from China. The surge in cases weighed on sentiment boosted previously by optimism that the country's re-opening would increase demand. US crude fell 0.07% to US$78.96, and Brent lost 1.3% to US$83.26 per barrel.
👛Bitcoin: At the time of writing, Bitcoin is down 1.31% at US$16,479.30.
🤒The former pope is sick: Pope Benedict, who took on that role before the current Pope Francis, is reportedly "very sick." On Wednesday, Pope Francis asked an audience at the Vatican to make a special prayer for him. Benedict is 95 years old.
😷China's hospitals and funeral homes are slammed: Recently, China pivoted away from its strict zero-COVID stance and started making moves toward re-opening the country. Now, COVID is surging in the mainland, and it's estimated that millions of people are being infected every day. Hospitals and funeral homes are reporting feeling the pressure, with a strain on resources.
📄Hong Kong COVID measures: Hong Kong's chief executive, John Lee, announced on Wednesday that all of the city's COVID measures would end starting Thursday with the exception of the mask mandate. This includes the city's vaccine pass and COVID tests for incoming travelers. Hong Kong is aiming to fully open its border with China by January 15.
🌉Chinese bridge pileup: On Wednesday, more than 200 cars were involved in a pileup on a Chinese bridge in Zhengzhou after a heavy fog. Rescue efforts are ongoing, and so far, one person has been killed.
🗺Kosovo closes border: Ethnic Serbs in Kosovo have been protesting the government's decision to replace Serbian-issued license plates, as they don't recognize the country's independence. After months of tensions, things have reached new heights. Protesters on the Serbian side  blocked the border on Tuesday in support of the Serbian minority in Kosovo. Now, Kosovo has closed its biggest Serbian border crossing.
☮Ukraine peace talks squashed: Since Russia's invasion of Ukraine, it's been able to annex four Ukrainian regions through referendums that were largely condemned by the international community. Recently, Ukraine President Zelenskiy presented a plan to move toward peace. But, on Wednesday, Russia rejected this plan since it doesn't account for these territories – even though Russia doesn't fully control any of them.
💉The US joins in on Chinese travel restrictions: China announced it would be re-opening its borders this coming January, and Chinese citizens would be able to travel again. But, as COVID is surging in China, some countries are putting restrictions on Chinese visitors. Now, the US is joining Japan, Taiwan, Italy and Malaysia in adding additional measures for Chinese arrivals. Italy jumped on the bandwagon after almost half of the passengers from two Chinese flights into Milan arrived COVID-positive.
🩸Alzheimer's blood test: Alzheimer's disease is the world's most common form of dementia, but it's hard to diagnose during earlier stages. But, scientists have made a breakthrough by developing a blood test for the disease, when usually testing requires brain imaging or a lumbar puncture. If the test gets approved, treatments for Alzheimer's can be adopted earlier on.
🌌Nebula images: The Very Large Telescope, run by the European Space Agency in Munich, Germany, recently celebrated its 60th birthday. To honor the occasion, the ESA released a new, detailed photo of a cone nebula that's about 2,500 light-years from Earth.
Written and put together by Joey Fung, Vanessa Wolosz and Christine Dulion