WORLD
From a gamer tragedy in China to even more weird stuff people are wearing – Here's your January 26 news briefing
For video games to be released in China, companies need a license from the government regulator.
To start off, we're looking into:
Tragedy for WOW gamers in China
The backstory: For video games to be released in China, companies need a license from the government regulator. And, for quite some time, US-based Activision Blizzard and China's NetEase had a pretty good thing going. NetEase is one of the biggest game distributors in the country and had a deal to distribute Blizzard's titles in China and run the online servers. This helped Blizzard get a foothold in the massive Asian market. But, things took a turn for the worse when the two couldn't agree on a new deal for some of Blizzard's most popular franchises, like Diablo, World of Warcraft and Overwatch.
The development: Sadly, it's the end of an era for Warcraft players in China, as all of Blizzard's game servers shut down on January 23. Blizzard has promised to allow players to save their progress with a new service, and it's said it is exploring other licensing deals. It's a big disappointment for the dedicated players who have been enjoying the game for years, with one player writing online, "It really hurts my heart."
The future of Mars travel
The backstory: Space enthusiasts, NASA is making headway in its ambitious plans for the future. As you may recall, the agency successfully tested its Artemis 1 spacecraft last year, which is a stepping stone for future missions to the moon and Mars. With this progress, NASA is optimistic about landing humans on Mars sometime in the 2030s. To make this happen, NASA has a program called Moon to Mars. But, the journey is no cakewalk, as it would require a voyage of 300 million miles (483 million kilometers) and take around seven months with the tech we have.
The development: NASA revealed its plans on Tuesday to test nuclear-powered rockets for space travel. It's teaming up with the US Defense Advanced Research Projects Agency (DARPA) to demonstrate a nuclear thermal rocket engine in space as soon as 2027. The goal is to make it faster and safer for astronauts to travel to Mars and easier for people to travel there in the future. Plus, they could carry more scientific equipment and have better communication and instruments.
The Doomsday Clock ticks forward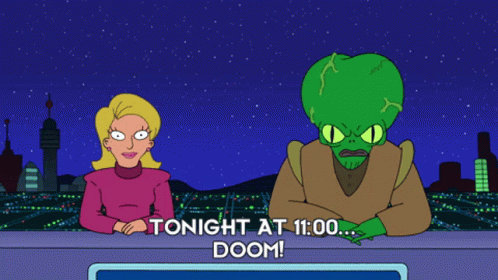 The backstory: The Doomsday Clock is a symbolic timepiece invented in 1947 by Albert Einstein and other scientists that worked on the atomic bomb. A group called the Bulletin of the Atomic Scientists moves its hands every January based on threats our world is perceived to be facing. Existential threats that move the hands include political conflicts, weapons, technology, climate change, pandemics and others. So, it basically counts down to the end of the world – when it gets to midnight, that's when we're, theoretically, done for.
More recently: When the Doomsday Clock was first set up, it was around seven minutes to midnight. It was at its furthest from midnight (17 minutes) in 1991 when the Cold War ended. The hands have been moving closer and closer to "doomsday" ever since.
The development: Now, according to the Bulletin of Atomic Scientists, the world is closer to annihilation than ever before. On Tuesday, the group moved the hands of the clock to just 90 seconds to midnight. A few reasons are the threat of nuclear weapons in Russia's war on Ukraine, climate change getting worse and the possibility of more pandemics. This is the closest the clock has ever been to midnight – or the end of the world as we know it.
To end, we'll look into:
Life's origins in outer space
On Monday, scientists working with the James Webb Space Telescope announced they'd found icy molecules hidden within the Chamaeleon I molecular cloud. This cloud is a few hundred light-years from Earth. And these icy molecules are sort of like the building blocks that'll one day fuse together into a new generation of stars and planets. They could even be the spark of new life. Alongside frozen carbon dioxide, ammonia and water, the telescope discovered evidence of "prebiotic molecules" in the cloud. These are basically chemicals known to support the conditions for creating life.

"These observations open a new window on the formation pathways for the simple and complex molecules that are needed to make the building blocks of life," said Melissa McClure, an astronomer at Leiden Observatory, in a statement.

But how could life form in outer space before with the Earth?

Last December, scientists discovered that gamma rays might've played a major role in the beginnings of life on Earth. A group of scientists led by Yoko Kebukawa, an astrobiologist at Yokohama National University, conducted a groundbreaking experiment to test this idea. They used formaldehyde and ammonia, commonly found inside space rocks, and showed how these compounds become amino acids when exposed to gamma rays.

This experiment demonstrates "a new prebiotic amino acid formation pathway that contributes to life's origin," according to a study published in ACS Central Science. What happens is that the rays explode within space rocks when radioactive elements within the rocks decay. With this experiment, we can see one possible origin for the amino acids that spread on Earth billions of years ago, which made our planet ripe for new life.

Icy dust bodies in that cloud contain water, ammonia and small carbon molecules. The chemicals that make up amino acids are right out there in space. There just needs to be some kind of energy to trigger the reaction that causes the acids to form.
In other news ...
📈Stocks: MSCI's global gauge of stocks is up 0.03% at 2756.73 at the time of writing.
📰Some specifics:
Dow Jones is up 0.03% to 33,743.84.
Nasdaq Composite lost 0.18% to 11,313.36.
S&P 500 dropped 0.02% to 4,016.22.
Hang Seng Index is closed this week for Lunar New Year.
🧠Some quick factors to bear in mind:
US markets closed with losses on Wednesday, except for the Dow's slight gains. Stocks are headed for the best January since 2019, thanks to the belief that the Fed will reduce its rate hikes.
On the other hand, the tech-heavy Nasdaq had a rough day. Investors were taking in recent corporate earnings and trying to gauge how the largest companies are holding up in the face of rising rates and recession worries.
Investors are getting ready for more big-name corporate earnings this week. Companies like Visa, Blackstone, Intel and Southwest Airlines are set to post their numbers.
In Asia, MSCI's broadest index of APAC shares outside of Japan hit a seven-month high, but trading was still sluggish dues to some markets being closed for Lunar New Year. Hong Kong's stock market will reopen later today, while mainland China's stock market will reopen next Monday.
👄Some comments and chatter:
"The push-and-pull of bulls and bears continues, with technology earnings the latest data point to energize the bears, though the positive momentum, continued heavy skepticism of the rally and the attractiveness of several areas of the markets could break equities out to the upside," said Mark Hackett, chief of investment research at Nationwide, referring to weak performance in tech companies on Wednesday.
"I could be right about the economy and the labor market, but the Fed may still say we're going to drive the economy lower until there's no fear that inflation is going to kick back up," said Joseph LaVorgna, chief US economist at New York's SMBC Nikko Securities, about upcoming rate hike decisions from the US central bank.
🛢Oil: On Wednesday, oil prices remained steady after the release of official stats showing the rise in US crude stockpiles was less than forecasted. With this, US crude settled at US$80.15, and Brent settled at US$86.12 per barrel.
👛Bitcoin: At the time of writing, Bitcoin was up 3.6% at US$23,450.60.
🟢Germany approves tanks: For weeks, several countries have been urging Germany to send Leopard 2 tanks, which are world-class battle tanks, to Ukraine and approve others to send their own stocks. Berlin must approve exports of the German-made tanks. Now, Germany has said it will send 14 of its tanks and approved other countries to export them to Ukraine. The UK, Poland and the US are also expected to send tanks to Ukraine soon.

✈Rwanda and DRC tension: There have been months of tension between the Democratic Republic of the Congo (DRC) and Rwanda, as DRC accused Rwanda of backing the M23 rebel group that's been terrorizing the country. Rwanda denied ties to the group. On Tuesday, Rwanda said it shot one of DRC's fighter jets flying in its airspace, which DRC is calling an "act of war."

❄Heavy snowfall in Japan: With Asia experiencing unusually cold temperatures, Japan was hit with some major snowfall on Wednesday. The snow caused hundreds of flights to cancel all over the country, affected traffic and caused at least one death.

🎬Indian students continue to screen documentary: On Tuesday, a New Delhi campus screening of a BBC documentary about Prime Minister Narendra Modi that the Indian government has labeled as propaganda was shut down by a power cut. Students are holding their ground, though. The Students' Federation of India (SFI) plans to show the doc in every Indian state, according to a statement from its general secretary to Reuters.

😷North Korea locks down capital: North Korea hasn't reported much about COVID, only declaring its first outbreak last year and saying it had ended by last August. The country doesn't seem to have a means of widespread testing, so it's hard to know how many people got COVID. But on Wednesday, NK put Pyongyang on a five-day lockdown because of rising cases of a respiratory illness that hasn't been specified.

🥶Natural gas shortages hit China: A lot of southeastern Asia is experiencing low temperatures right now, including China and Japan. But China is also experiencing a natural gas shortage, making winter much harder on people. Experts are saying that the gas crunch shows systemic issues in China's energy regulations and infrastructure.

🚢Cargo ship capsizes near Japan: On Wednesday, a cargo ship with 22 people on board capsized off Japan's Nagasaki prefecture. Nine crew members are still missing, and 13 have been rescued.

🧊Huge iceberg breaks off Antarctica: About a decade ago, scientists discovered a crack on the Brunt ice shelf in Antarctica. Since then, there have been two major breaks. On Sunday, an iceberg the size of Greater London broke off, but scientists said this incident was expected and isn't because of climate change.

☁Microsoft Cloud outage: Azure, one of Microsoft's cloud platforms, has 15 million corporate customers and over 500 million active users all over the world. On Wednesday morning, it experienced an outage that affected millions everywhere except for China. After a few hours, Microsoft had the platform running like usual again.

💼Hong Kong and Macau travel bump: Since travel restrictions were lifted between mainland China and Hong Kong and Macau, it's been a bit of a waiting game to see if and when tourism would pick back up. With the Lunar New Year holiday, Hong Kong and Macau both experienced a jump in visitors and horse betting. Now, Hong Kong is looking to drop its COVID testing requirement for travelers to and from mainland China.
🙄Trump's back: Two years ago, former US President Donald Trump was kicked off several social media platforms for breaking the rules, leading him to ultimately create his own platform called Truth Social, which, honestly, kind of flopped. He was already recently allowed back on Twitter after Elon Musk took over and reinstated several banned handles. Well, his suspension is over, and Trump has been reinstated on Facebook and Instagram.

🕊The Pope on homosexuality: The Catholic Church has a long history of anti-LGBTQ views. But, Pope Francis has a legacy of more liberal attitudes toward modern social issues. In an interview Tuesday with the Associated Press, Francis said homosexuality isn't a crime and that bishops should approach the issue with "tenderness, please, as God has for each one of us."

👋Go home Ye: Kanye West, or Ye, has been in the headlines in recent months for controversial statements and hate speech. After recent reports that he might visit Australia, a government official said Wednesday that he might be banned from entering the country for his antisemitic views.  

🌎Earth's core could be reversing direction?: The Earth has a solid inner core that's about 3,200 miles below its crust. That core turns in one direction, but scientists at Peking University suspect that it's stopped spinning and could reverse direction based on data from the seismic waves of earthquakes. But, another expert said the data means the inner core hasn't stopped but just become more in sync with the rest of the planet. Both sides said more research is needed.

💃Fashion in all directions: Avant-garde luxury fashion house Viktor & Rolf had a couture show on Wednesday for Paris Fashion Week. Um … just look at it.
Written and put together by Joey Fung, Vanessa Wolosz, Shebby Farooq and Christine Dulion