Even though the economy has had it pretty rough throughout the pandemic, the Adani Group, led by Gautam Adani, had a great year in 2022.
To start off, we're looking into:
Indian tycoon Gautam Adani's billionaire status
The backstory: Even though the economy has had it pretty rough throughout the pandemic, the Adani Group, led by Gautam Adani, had a great year in 2022. Adani's personal wealth skyrocketed by over US$100 billion in just three years, putting him near the top of the world's billionaires list. By February, he was India's richest person, and by April, he had become a centibillionaire. But, his crowning achievement came in September when he became the second richest person in the world. This success isn't surprising, considering the Adani Group is a huge,  diverse company with interests in ports and airports, coal mining and trading, natural gas, media and cement.
The development: US investment firm Hindenburg Research came out with an explosive report alleging that the Adani Group has been involved in stock manipulation and accounting fraud for decades. This news hit Adani's net worth hard, causing it to drop by a cool US$5.5 billion on Wednesday. But, even with this setback, Adani is still the richest person in Asia.
Robot lawyer not heading to court
The backstory: Last week, a startup called DoNotPay announced it would revolutionize the legal world by using AI chatbots to offer real-time legal advice in court. The goal of DoNotPay is to use AI to help people who can't afford a lawyer. Imagine you're in court, and a chatbot is in your ear giving you real-time guidance on what to say to fight a traffic ticket, and it's all accessible through an app on your phone.
More recently: DoNotPay has been using AI-generated form letters and chatbots to help people with issues like getting refunds for faulty in-flight WiFi, lowering bills and fighting parking tickets. And it's been working really well – the company's won over two million customer service disputes and court cases for people so far. But, this would have been the first time it had stepped into an actual courtroom.
The development: Things have hit a roadblock, as DoNotPay had to put its plans on hold after threats from prosecutors, according to CEO Joshua Browder. He said he could face a possible six-month prison sentence if he continued with the plan.
The robot lawyer concept had an uphill battle from the beginning. It's important to note that to provide legal advice and represent parties in court, a law license is required. Also, recording courtroom proceedings is prohibited in many US states.
Asia's cold snap
The backstory: This past year has been a whirlwind of strange weather and climate events. Much of Asia experienced a major heat wave and drought last summer, plus wildfires bombarded Europe. The wild weather events are likely to continue as we see the results of climate change.
More recently: Over the past couple of years, there's been record melting of Arctic ice caps. And, as the sea takes on more liquid, more water vapor is in the air, and more snowfall is expected. El Niño and La Niña climate pattern cycles in the Pacific Ocean also affect weather worldwide and are influenced by climate change.
The development: Now, in Japan, China and Korea, we're seeing an extreme cold wave. Low temps have been consistent over the past two weeks in parts of Asia, with northeast China experiencing record lows of -53 Celsius. Authorities in Japan and Korea have issued warnings over freezing temperatures and winds. One person has died, and thousands of others have found themselves stranded at train stations, on the roads and in airports. The cold is expected to continue through the end of the month.
To end, we'll look into:
People really get apes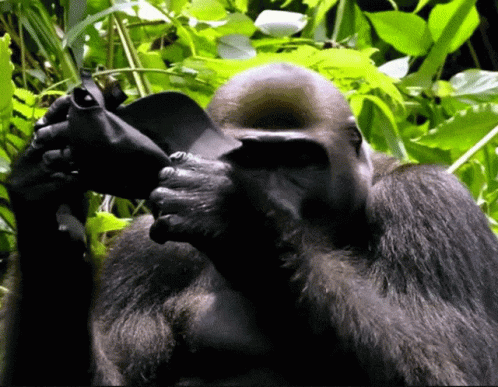 We all know that humans and apes share a common ancestor. They're practically our cousins. Our very strange, hairy cousins.

And, as it turns out, we may be able to understand them better than we thought.

In a recent study by the University of St. Andrews in Scotland, researchers tested how well humans could understand ape gestures. Kind of like us, apes and other primates use their own form of sign language. In fact, some scientists believe that the gestures apes use to communicate goals could've been precursors to human language. "They are using gestures in a way that is more languagelike, and so there's this theory that human language might have evolved from this gestural basis," says primatologist Kirsty Graham of the University of St. Andrews.

The idea to explore this communication comes from Graham, who has spent hundreds of hours among apes in the DRC, working to decode their interactions.

In the experiment, 5,656 (human) participants were shown videos of chimpanzees and bonobos making 10 of their often-used gestures, like raising their arms, which could signal grooming or hunger; shaking an object, which could be a sign for sex; and touching, potentially meaning "climb on my back" or "give me that food." While about 2,700 people were given only the videos, the rest of the participants were given more info and context.

The results? More than half of the participants with more context could figure out the gestures' meaning (57.3%), while 52.1% of participants given only the videos could figure it out. This is way higher than researchers expected.

"When the apes use these gestures, they have a lot of extra contextual knowledge (what's their relationship? What have their recent interactions been like? What were they just doing?) that participants didn't have access to in the experiment," Graham told Vice. "And when we told participants a bit about what the apes were doing before, it did improve their understanding significantly but only by about 5 percent. So it seems like the gestures themselves are really meaningful to people."
In other news ...
📈Stocks: MSCI's global gauge of stocks is up 0.76% at 2777.62 at the time of writing.
📰Some specifics:
Dow Jones is up 0.61% to 33,949.41.
Nasdaq Composite rose 1.76% to 11,512.41.
S&P 500 gained 1.10% to 4,060.43.
Hang Seng Index climbed 2.37% to 22,566.78.
🧠Some quick factors to bear in mind:
US stocks had a good day on Thursday as investors examined the latest company earnings and economic data. Specifically, the GDP for the fourth quarter came in higher-than-expected, at 2.9%, boosting market sentiment.
Earnings season was mixed, with some companies like Tesla performing well and boosting the tech-heavy Nasdaq, while others like Intel had poor results and saw stock decline due to a weak revenue forecast.
The Fed is expected to raise interest rates by 25 basis points next week, signaling a softening of its tightening phase, but officials have voiced that rates will stay relatively high throughout the year.
In Hong Kong, stocks rose on the first trading day after the Lunar New Year break, with the Hang Seng reaching an 11-month high. This is largely due to the positive data on holiday spending and tourism, which suggests a recovery in Hong Kong and mainland China.
👄Some comments and chatter:
"With today's better-than-expected GDP number, I think investors are thinking maybe we can get away with a pretty soft, mild recession that is not likely to throw us into an even deeper bear market when all is said and done," said Sam Stovall, chief investment strategist at CFRA Research.
"We are tactically bullish on China stocks. I think what we might see in the months ahead is improvement in many of these activity indicators," said Chetan Seth, Asia-Pacific equity strategist at Nomura Holdings Inc., to Bloomberg, adding that an earnings recovery will "give another kind of boost to stocks prices."
🛢Oil: Oil prices rose around 2% on Thursday, as the market was optimistic about an increase in demand after positive US economic data reports and China's reopening. With this, US crude settled 1.1% higher at US$81.01, and Brent settled 1.6% higher at US$87.47. per barrel.
👛Bitcoin: At the time of writing, Bitcoin was down 0.23% to US$23,005.70.
💣Russian missile strikes in Ukraine: In its latest major attack on Ukraine, Russia launched 55 missiles across the country on Thursday. Ukraine was able to shoot down 47 of them. But at least 11 people were killed.

🤝The US will send Ukraine advanced tanks and introduce new Russian sanctions: In helping arm Ukraine, the US plans to send 31 Abrams main battle tanks in the more advanced M1A2 configuration instead of the A1 version. And the US also just introduced new sanctions for Russia's Wagner Group. Wagner is a private mercenary group involved in the war, and it's also a transnational criminal organization.

👮‍♀️West Bank violence: Israeli forces raided the Jenin refugee camp in the occupied West Bank on Thursday, killing at least nine Palestinians and another young Palestinian man later. This is the deadliest single operation in the West Bank in 20 years. Now, Palestinian leaders are cutting security ties with Israel, which could result in more violence.

👋France pulls troops from Burkina Faso: Burkina Faso is currently fighting off an insurgency of Islamist terror groups. While France has troops there to help, Burkina Faso requested they leave earlier this week. On Thursday, France agreed to withdraw.

🎬Indian police detain students over documentary: Chaos over BBC's Modi documentary is continuing in India. The government has banned it and labeled it as propaganda. Students who tried to screen it on university campuses all over the country are now being arrested.

🌱Opium production in Myanmar surges: After the military coup in Myanmar in 2021, the country has been experiencing economic issues. Now, opium production there is at a nine-year high, likely because money insecurity has left some farmers with no other choice.

📢Thousands protest "Invasion Day" in Australia: Australia has a long, bloody past with a legacy of colonialism and the oppression of its Indigenous population. Thursday was "Australia Day," marking the 1788 landing of the British First Fleet at Sydney Cove. This year, though, thousands of people protested Australia Day, marching in cities to rally in support of Indigenous rights.

🕊President calls for truce in Peru: Anti-government protests have been going on in Peru since early December. Now, President Dina Boluarte is calling for a truce with protesters. After she made a speech calling for a truce, thousands of protesters gathered in Lima to demand her resignation. So that's a no on the truce, then.

💻Ransomware gang website seized by FBI: Hive is a well-known ransomware gang that's extorted over US$100 million from hospitals, schools, and other victims globally. Since July, the FBI has accessed Hive's computer networks and decrypted its systems. On Thursday, the US announced that the FBI had seized its computer infrastructure.

💼Nike sues BAPE: On Wednesday, Nike sued the brand BAPE, saying it copied its sneaker designs. Nike requested an undisclosed amount of money in damages and that the company stop selling the designs.

👟New Balance car?: As part of a Japanese campaign, Nissan has created a driveable New Balance sneaker. It collabed with New Balance shoe company to design a special edition of the Japan-only Nissan Kicks electric SUV and has named it the Nissan Kicks "327 Edition."⁠
🚗Toyota's new CEO: Akio Toyoda has been the head of Toyota Motor Corp. for a long while, leading his grandfather's company to the top ranks of the auto industry. Now, Toyota has said it's promoting the head of its Lexus division to replace him. Koji Sato will become the new CEO, and Toyoda will remain as chairman.

⚱Ancient tombs unearthed in Egypt: On Thursday, Egypt said it found several 4,300-year-old tombs in the ancient burial ground of Saqqara, near Cairo. They're from the Fifth and Sixth dynasties of the Old Kingdom.
Written and put together by Joey Fung, Vanessa Wolosz, Shebby Farooq and Christine Dulion