Headlines
From a mafia boss pizza chef to the goodest, oldest boy in the world – Here's your February 6 news briefing
Another Mafia-related arrest was brought about by a story in the French journal Le Progrès about a pizza chef.
A few minutes every morning is all you need.
Stay up to date on the world's Headlines and Human Stories. It's fun, it's factual, it's fluff-free.
To start off, we're looking into:
Mafia boss hides as a pizza chef
The backstory: The Italian anti-Mafia squad made headlines in January after busting the elusive "godfather" of the Sicilian Mafia, Matteo Messina Denaro. After 30 years on the run, he was finally nabbed by police at a health clinic in Palermo, Sicily.
More recently: Another Mafia-related arrest was brought about by a story in the French journal Le Progrès about a pizza chef at the Caffè Rossini Ristorante in Saint-Etienne, France. It turns out the chef was actually former Calabrian 'Ndrangheta boss Edgardo Greco. The article was shared on the restaurant's Facebook page, leading police to his location.
The development: The police arrested Greco last Thursday. He'd been on the run for 16 years and was working under a fake name, which he also used actively on social media. Greco has a long rap sheet, including a double murder conviction from 1991 and several attempted murders of prison officials, which gave him the nickname "prison killer."
Elon Musk wins lawsuit against investors
The backstory: It's been a wild ride for Tesla and CEO Elon Musk, and it looks like the saga is finally coming to an end. As you might remember, Tesla's investors sued the billionaire, accusing him of manipulating Tesla's stock price and defrauding them with his tweets in 2018 about taking the company private. They argued he didn't actually have the funding arranged, so his tweets were misleading. But Musk said he thought he did have the money secured from Saudi Arabia's Investment Fund, so it wasn't fraud to say so.
More recently: The trial in San Francisco showed a wide range of opinions about Musk during jury selection, with some prospective jurors calling him a visionary and "smart" and others a narcissist and "off his rocker."
The development: The jury has spoken in favor of Musk. On Friday, nine jurors said he didn't defraud investors with his tweets after deliberating for less than two hours. This saved Musk potentially billions in damages.
Musk's attorney, Alex Spiro, argued that just because the tweets were technically inaccurate, it didn't make them fraudulent. On the other hand, Nicholas Porritt, representing the unhappy investors, asked the jury to hold Musk accountable for his reckless behavior.
Spy balloon or weather balloon?
The backstory: The US and China have been trying to patch up tensions and create stronger diplomatic ties to work together on global issues like climate change, geopolitics and trade. But things are still rocky between the two nations. This weekend, US Secretary of State Antony Blinken planned to go to China to continue talks – the first visit by a secretary of state in five years.
More recently: On Thursday, the US said it was tracking a giant white balloon floating near a sensitive area in Montana where nuclear warheads are kept. Authorities determined it was from China and could be a surveillance craft. This led to Blinken canceling his trip to China, calling it an "irresponsible act." But China said it was just a civilian weather research balloon that ended up in US airspace by accident after it was blown off course.
The development: On Saturday, the balloon was finally shot down by the US Air Force off the Carolina coast. Afterwards, officials examined it and said there were sensors and surveillance equipment inside. China wasn't happy about the balloon being shot down, saying the use of force was an "obvious overreaction and a serious violation of international practice," adding that it might "take further actions in response." The entire fiasco has gotten a ton of social media attention, and there are plenty of memes now, too. "Saturday Night Live" even spoofed it over the weekend.
To end, we'll look into:
How cinnamon helps your brain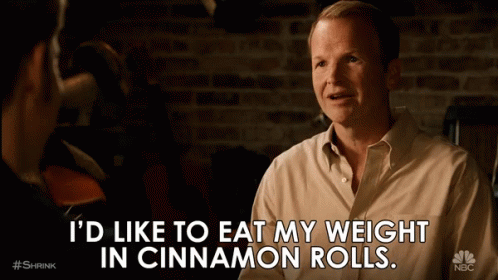 Cinnamon is a great spice. It's perfect for adding to sweet desserts and so many savory recipes, too. Pretty much everyone probably has some cinnamon in their spice cabinet.
But, new research suggests that cinnamon may be more than just a great way to amp up the flavor of our favorite foods. Scientists have already found that the bioactive chemicals in cinnamon have some effect on brain function and behavior. Some studies even suggested that cinnamon could have anti-inflammatory, antioxidant and anticancer properties.
Well, according to a recent study from Nutritional Neuroscience, there's also a relationship between cinnamon and cognitive processes like memory and learning.
"The main outcome of most studies proved that cinnamon significantly improves cognitive function," the study's authors found. "In vivo studies showed that using cinnamon or its components, such as eugenol, cinnamaldehyde, and cinnamic acid, could positively alter cognitive function. In vitro studies also showed that adding cinnamon or cinnamaldehyde to a cell medium can reduce tau aggregation, an and  increase cell viability."
Some of that sounds like science-y mumbo jumbo, but basically, that means cinnamon has some pretty good benefits for your brain. Tau aggregation is related to patients with certain neurological diseases, including Alzheimer's disease (in which Amyloid β seems to also play a major role). So, essentially, cinnamon affects the signs we know to be associated with some degenerative cognitive diseases.
This study involved a team of medical doctors and students at Birjand University of Medical Sciences in Iran. They analyzed other published scientific literature to figure out whether or not there's a relationship between eating cinnamon and learning and memory. After finding 40 studies that matched their criteria, the researchers were able to draw connections between cinnamon and positive brain function.
But, the authors still recommend that more studies and experiments be conducted. "Most studies reported that cinnamon might be useful for preventing and reducing cognitive function impairment.," they wrote. "It can be used as an adjuvant in the treatment of related diseases. However, more studies need to be done on this subject."
In the meantime, adding a sprinkle of cinnamon to your morning coffee definitely can't hurt.
In other news ...
📃Thousands to be pardoned in Iran: Chaos in Iran surrounding the ongoing protests is still raging on. With tens of thousands of people arrested with links to the protests, the country's supreme leader Ayatollah Ali Khamenei is granting some amnesty. He's agreed to pardon some recently arrested people, excluding dual nationals, prisoners with death sentences or those who don't show remorse. Supporters say this is a sign of reconciliation from the government, but critics say it's propaganda.
🌼Ex-Pakistan leader dies: Former Pakistani military ruler Pervez Musharraf was a controversial leader after gaining power through a military coup in 1999. He was also a big ally to the West in its "war on terror." A statement from Pakistan on Sunday said he died in Dubai at 79 years old after a long illness. Pakistan's military expressed its condolences.
🚫Europe's new sanctions: The EU recently pledged more aid to Ukraine. Now, it's upping sanctions against Russia. On Sunday, it banned Russian diesel fuel and other refined oil products, trying to cut Russia's oil earnings and reduce its dependency on energy from the country.
🔥Wildfires torch Chile: It's summer in Chile, and the country has been reporting record-high temperatures. Hundreds of wildfires are running wild. On Sunday, the interior minister confirmed 22 people had died so far because of the fires. Chile's neighbor Argentina is sending firefighters and machinery to help fight the fires.
🔫Violence in DRC: The eastern Democratic Republic of Congo (DRC) has seen an ongoing violent conflict between the DRC's military and a militant rebel group called the M23. DRC accused Rwanda of supporting M23, which Rwanda denies. On Saturday, leaders of the regional East African Community (EAC) bloc urged an "immediate ceasefire by all parties," during a summit in Burundi's capital Bujumbura.
😢Hundreds of war crimes in Ukraine: The war in Ukraine has been going on for about a year, and Russia has been accused of war crimes since the very beginning. Germany said it's collected evidence of war crimes "in the three-digit range," and the prosecutor general called for an international judicial process.
👩‍⚖️Hong Kong 47 trial: A couple of years ago, a campaign of arrests began in Hong Kong involving pro-democracy  individuals who were charged with conspiracy to subvert state power under the national security law. On Monday, a trial for this group – the Hong Kong 47 – starts in Hong Kong.
🥳The Happiest Place on Earth?: There have been labor disputes at Disney World in the US recently, and Disney offered workers a new five-year contract to raise their pay by at least US$1 an hour per year. But, unions representing about 32,000 full-time workers said they rejected the offer and that Disney could do better. According to the Service Trades Council Union, 96% of the members' votes rejected the deal.
👗RIP Paco Rabanne: Paco Rabanne was a Spanish fashion designer who revolutionized couture, known for his futuristic style and unorthodox use of materials like metal, plastic and paper. He died at 88 years old in France on Friday.
🏳‍🌈Religious leaders on homosexuality: Recently, Catholic leader Pope Francis said homosexuality wasn't a crime and Christians should be more tolerant. On Sunday, Pope Francis, the head of the Anglican Communion and a top Presbyterian minister held a news conference returning from South Sudan and agreed that being gay isn't a crime and gays should be welcomed by their churches.
🏍The flying bike startup: Japanese startup Aerwins Technologies is known for its Star Wars-inspired US$555,000 hoverbike. Yeah, a flying bike. On Friday, Aerwins announced that it received approval to list on the NASDAQ in a merger with Pono Capital Corp. and is already taking orders for the XTurismo hoverbike.
💉Opioid addiction vaccine?: The opioid addiction epidemic affects many parts of the world. Fentanyl is a major player in this mess, ​​as it's 50 times stronger than heroin and 100 times stronger than morphine, and it's often mixed in with other drugs. Researchers at the University of Houston have developed a vaccine that blocks Fentanyl's ability to enter the brain, eliminating its "high," which could lead to fewer cases of addiction.
🐄Chinese cow clones: The Chinese dairy industry has been looking to lower its dependence on imported cows. Chinese scientists have now successfully cloned three "super cows," which produce an unusually high amount of milk – almost twice the average amount.
🐶A good old boy: One of the goodest, oldest boys, a dog named Bobi, has won the Guinness World Record for the oldest dog ever at over 30 years old. Bobi's a purebred Rafeiro do Alentejo, which typically live 12-14 years, and lives in Portugal. His family says he's doing really well for his age!
Written and put together by Joey Fung, Vanessa Wolosz, Shebby Farooq and Christine Dulion