Crypto
From the Crypto Bowl crash to a Super Bowl scoop – Here's your February 14 news briefing
Lots of people watch the US Super Bowl for the commercials, even if they aren't necessarily into the game.
A few minutes every morning is all you need.
Stay up to date on the world's Headlines and Human Stories. It's fun, it's factual, it's fluff-free.
To start off, we're looking into:
From Crypto Bowl to crypto winter
The backstory: Lots of people watch the US Super Bowl for the commercials, even if they aren't necessarily into the game. Advertising during the Super Bowl is massively expensive. A 30-second slot can cost between US$6-7 million dollars. And last year's Super Bowl was so dominated by crypto ads that many people called it the "Crypto Bowl." Fast forward a year, and the crypto market has taken a big hit with bankruptcies, price drops and overall uncertainty about its future.
The development: This year's Super Bowl was noticeably crypto-free. So how many ads ran for crypto at Super Bowl LVII? Zero. Nada. Zilch. Fox Sports said two crypto companies had previously booked Super Bowl ad slots, and two more were close, but then it all fell apart after the FTX collapse. The blockchain wasn't entirely absent, though. Web3 gaming company Limit Break did run an ad giving away NFTs, and a Canadian crypto exchange company also ran an ad, but it wasn't aired in the US.
Why is China's population decline causing concern?
The backstory: China has been struggling with a low birth rate for some time now. In 2022, there were just 6.77 births per 1,000 people, the lowest on record. And in January of this year, the country reported its first population decline in 60 years, as there were more deaths than births. So, what's the deal?

More recently: China's one-child policy began in the late 1970s and lasted until 2015, limiting most families to having only one child. The policy has been blamed for the country's population decline. China increased the limit to two kids in 2016 and then to three in 2021, and now some officials are calling for "bold innovations" to offset the costs of childcare and education.

The development: A top health official in charge of China's Population Monitoring and Family Development department, Yang Wenzhuang, has urged local leaders to step up and help raise the birth rate. He believes that women worrying about money, their careers and the cost of childcare contribute to the lower rate.
So, what does this mean for China and the rest of the world? Well, a declining and rapidly aging population could seriously impact China's economy, which is the second-largest in the world. If fewer people are in the workforce than in the elderly community, it could strain resources. And a strained economy could affect global markets and trade as it snowballs.
More spy balloon drama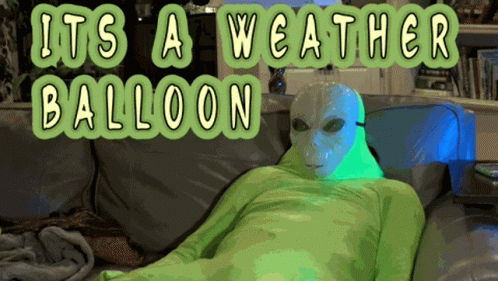 The backstory: After heightened tensions during most of 2022, the US and China have taken small steps to become friendlier. They were on their way to rebuilding and strengthening diplomatic ties, with Presidents Xi and Biden meeting in person as well as other top officials from both countries.

More recently: US Secretary of State Antony Blinken was planning on visiting China as a part of this relationship-building. But, in late January, the US military caught wind of what the country thought was a Chinese balloon floating near sensitive military and nuclear testing sites in Montana. The US said it was a spy balloon, but China said it was only a weather balloon off-course. Blinken canceled his visit to China, and the US shot down the suspected surveillance balloon off the coast of South Carolina.

The development: On Sunday, China said it was going to shoot down an unidentified object flying near its eastern coast. It also said the US had sent surveillance balloons over China more than 10 times since last January, but the White House denied these accusations. Some anonymous officials are saying that Blinken could meet with Chinese counterparts sometime this weekend at a Munich conference, so we'll wait to see how that unfolds.
To end, we'll look into:
The Ye blowback at Adidas
After Kanye West (aka Ye) made some controversial and antisemitic comments last year, the public pressure was on for Adidas to cut ties with him. Before that, the sportswear brand had worked with Ye to build out the Yeezy apparel line. The collaboration between the two was said to be worth billions, but Adidas was criticized for not cutting the deal.

In October, their partnership formally ended, making Adidas one of the last businesses to put distance between itself and Ye. But what about all of the Yeezy stuff that Adidas still has in its warehouses?

Well, last week, Adidas also released some early info about its financial guidance for this year. Revenue is expected to drop after ending the Yeezy partnership. And sales are estimated to drop by about US$1.28 billion. If Adidas doesn't sell off its remaining Yeezy stock, its operating profit will drop by about US$537 million.

"There's no way to get out of this gracefully or profitably," said Matt Powell, a footwear retail expert who's worked with Adidas. "The question is, how can they lighten the bad things that are going to happen?" It looks like Adidas is going to have to try to repurpose the Yeezy inventory that it has. But how?

Adidas has a few choices for dealing with the Yeezy debacle. It could heavily discount, resell, destroy or donate pieces. For one, Adidas could remove the Yeezy label and sell the inventory at its own stores or partner retailers, likely at a discount. This could be risky, though, because the unique designs will make it hard to distance the shoes from association with Ye.  

Or, it could sell the remaining inventory to developing markets to make a profit without hurting its reputation in places like the US and Europe. The company would still need to strip the branding of the shoes, and there's still a chance it will sell poorly because of the drama with Ye. Or, Adidas could donate the stock, which is good for its image but bad for its books.

In any case, it's a bad idea to totally destroy the merchandise. It would be a major financial loss and could also lead to public backlash for being wasteful.

Yeezy problems aside, Adidas is looking at some big challenges. "The sales decline is about more than just Yeezy," Bernstein analyst Aneesha Sherman wrote in a note last week. "We are concerned about the underlying health of the business that would drive such a drastic guide-down, even after stripping out the Yeezy impact."

Adidas has relied heavily on collaborations for the past few years, including with stars like Bad Bunny, Pharrell Williams and Beyoncé. But Wall Street is worried that it'll have trouble finding the next big thing, especially after this Yeezy hit.

Collabs may not be the way forward, as even its joint venture with Beyoncé, Ivy Park, has plunged more than 50% in the last year.
In other news ...
📰Stocks: MSCI's global gauge of stocks is up 0.06% at 2811.70 at the time of writing.
Dow Jones gained 1.11% to 34,245.93.
Nasdaq Composite climbed 1.48% to 11,891.79.
S&P 500 rose 1.14% to 4,137.29.
Hang Seng Index lost 0.12% to 21,164.42.
🧠Some quick factors to bear in mind:
US stocks rallied on Monday, bouncing back from a tough week where the S&P 500 and the Nasdaq had their worst weekly plunges in two months.
Investors are betting Tuesday's Consumer Price Index (CPI) will show cooling inflation, which could mean a pause or change in the Fed's interest rate hikes. But, if the report misses expectations, it could lead to more rate hikes and pressure on stocks.
A recent New York Federal Reserve consumer survey showed expectations for inflation stayed steady in January, giving traders a little peace of mind.
The end of earnings season is upon us, with big names like Coca-Cola, Marriott and Cisco reporting. Unfortunately, the results haven't been great, which has made this the worst earnings season in 20 years (if you don't count recessions), according to Credit Suisse.
Hong Kong stocks had a rough day, adding to the previous week's losses as investors worried about rising tensions between China and the US. But China's stocks rallied after an increased demand for credit in January brightened the mood.
👄Some comments and chatter:
"The market is starting to sense that the very comforting disinflation story is more complex than we'd like it to be," said Mohamed El-Erian, chief economic advisor at Allianz, to CNBC.
"We've strongly believed that the handoff from goods disinflation to services was going to take time and that the Fed would have to remain in restrictive territory to do that. And so we've maintained a cautious positioning in our portfolios, but we looked to real fundamental catalysts for those relative value trades such as the China reopening," said Alexandra Wilson-Elizondo, head of multi-asset retail investing at Goldman Sachs Asset Management, in an interview with Bloomberg.
🛢Oil: On Monday, oil prices rebounded as investors reacted to Russia's plan to cut crude production by 5% in March (a retaliation against Western export restrictions) and worries over short-term demand ahead of inflation data coming out this week. With this, US crude climbed 0.5% to US$80.14, and Brent rose 0.3% to US$86.61 per barrel.
👛Bitcoin: At the time of writing, Bitcoin is down 0.03% at US$21,781.80.
🏦Turkey investigates building contractors: After the disastrous earthquakes last week that killed over 35,000 people, there was tons of damage in Turkey and Syria. Thousands of buildings collapsed across both countries, making rescue attempts more difficult. Turkey is investigating construction contractors that could be linked to these deadly building collapses.

💔Syria struggles for aid: Syria has been experiencing years of devastating war and humanitarian issues. After a week of rescue efforts, the UN has acknowledged an international failure to help Syrian victims of the quake. Its relief chief said it would aim to increase land crossings and aid.

📢Thousands march in Israel: After weeks of planning, Israeli PM Benjamin Netanyahu's administration formally began working to overhaul the government and limit judiciary power. Thousands of people protested outside the parliament building on Monday, demanding this bill be put on hold. This is the largest protest the Knesset has seen in years, but Netanyahu doesn't seem swayed.

🚢Chinese ship laser: The South China Sea is a disputed territory, with China and the Philippines among four countries making claims on it. On Monday, the Philippines reported an incident from February 6, accusing China of shining a "military grade" laser at a Filipino coast guard boat to thwart a resupply mission to a shoal in this territory. The laser had temporarily blinded the ship's crew, and it had to retreat.

🌀Cyclone Gabrielle hits New Zealand:  Cyclone Gabrielle is now ripping through New Zealand with harsh winds and rain. A lot of the country is under a state of emergency. At least 46,000 homes have lost power, and hundreds of flights have been canceled.

⛪Portuguese Catholic Church sex abuse study: It's been over 20 years since the Catholic Church's global sex abuse scandal broke, revealing that thousands of minors had been abused by clergy members all over the world. Recently, the Portuguese Episcopal Conference set up an independent commission to investigate abuse in recent decades. Now, a report has been released, revealing documented cases of at least 4,815 victims, but there were likely many more.

🗞Cambodia shuts down independent news outlet: Cambodian PM Hun Sen demanded independent media outlet Voice of Democracy (VOD) take back a report that Hun's son had authorized US$100,000 in aid to Turkey rather than the PM himself. Over the weekend, Hun ordered the government to take away VOD's license when it didn't. Human rights orgs are denouncing this action, saying it's a political attack on the free press.

🔎Adani probe confirmed: India's Adani Group has had a rough few weeks, losing about US$120 billion in market value after being accused of fraud. But, on Monday, the Adani Group reassured investors that its cashflows are looking good and its business plans have been totally funded after an Indian regulator confirmed it was investigating the group.

🚗Vanity car plate: A car registration plate with just the letter "R" sold at a Hong Kong auction for more than HK$$25 million (US$3.18 million). After 60 rounds of bidding that started at HK$5,000 (US$637), the plate was sold and became the second-most expensive in the city.

🌞Part of the sun broke off?: NASA's James Webb Telescope captured footage of solar plasma on the sun breaking away from its surface and creating a vortex over its north pole. Scientists are trying to figure out how and why this happened.
🏈Super Bowl Sunday scoop: The Kansas City Chiefs won the US Super Bowl 38-35 against the Philadelphia Eagles at this year's Super Bowl LVII. Rihanna performed a medley of her biggest hits during the halftime show, simultaneously causing internet speculation that she's pregnant. Her reps confirmed after the show that she is expecting baby #2. Another viral moment is making waves on social media – deaf ASL interpreter Justina Miles is being praised for her energetic performances during the Black National Anthem and Rihanna's set.
Written and put together by Joey Fung, Vanessa Wolosz, Shebby Farooq and Christine Dulion