WORLD
From Hong Kong's currency strategy to AI's effect on wealth inequality – Here's your February 16 news briefing
Hong Kong's local currency (HKD) has been pegged to the greenback (USD) since 1983.
To start off, we're looking into:
HKMA's moves to guard the HKD
The backstory: Hong Kong's local currency (HKD) has been pegged to the greenback (USD) since 1983. This helps keep the currency stable, meaning more people will park their investments in Hong Kong, which has helped it become a global financial hub. The ideal range is to keep it valued between HK$7.75 and HK$7.85 against the USD. But the HKD has been facing challenges. There's been a constant outflow of capital as the USD goes up, which has caused HKD's value to drop.
More recently: Because there's been a gap between the interest rates in Hong Kong and the US, traders have been doing something called "carry trades." That means they move money out of Hong Kong to take advantage of the better returns from the relatively higher US interest rates, putting extra pressure on Hong Kong's currency and hurting the economy.
The development: On Wednesday, the HKMA stepped in and bought HK$4.22 billion (about US$538 million) and then sold an equal amount of US currency to keep the peg in the range. Experts expect the local currency to regain strength with China's reopening causing more demand for HKD returns.
The UK's new rules on Buy-Now Pay-Later
The backstory: Buy Now, Pay Later (BNPL) is a trendy payment method where you can split up the cost of purchases, usually without any interest. But, like with anything, convenience and innovation often come with some regulatory concerns. And in the case of BNPL, those worries are around the levels of debt and transparency involved. Especially with the rising cost of living, many people are uneasy about how BNPL could impact their finances. And while consumer groups and watchdogs have been pressuring the industry to regulate itself, not much has changed.
More recently: That is, until 2020, when the pandemic led to a surge in BNPL borrowing, especially among young people. The global BNPL market was valued at US$6.13 billion last year, and it's expected to grow with a compound annual growth rate (CAGR) of 26.1% from now through 2030.
The development: Now, the UK has announced new rules to regulate the sector. BNPL providers will now have to be licensed by the Financial Conduct Authority (FCA), run better affordability checks, provide more transparent loan info and give customers more recourse to complain if something goes wrong. And if the companies fail to meet these requirements, they could face a ban on further lending or have to pay fines.
The human cost of rising sea levels
The backstory: Climate change is… bad. And one of the major consequences of it is the threat of rising sea levels. In 2021, the Sixth Assessment Report (AR6) from the UN's Intergovernmental Panel on Climate Change (IPCC) was published. It said sea levels would stay elevated for thousands of years because of ocean warming and melting ice sheets. According to NASA, Antarctica loses about 150 billion tonnes (165 billion tons) of ice mass each year.

The development: On Tuesday, UN Secretary-General António Guterres addressed the UN Security Council during a debate on the insecurities brought on by the sea level rises. He warned that the rise leaves almost a billion people at risk. Some nations could completely disappear, land drowned out by the sea. Speaking for the Alliance of Small Island States, Samoa's UN ambassador Fatumanava-o-Upolu III Pa'olelei Luteru said that these island states contribute very little to greenhouse gas emissions but face some of the worst consequences of rising sea levels. Guterres has called for a $100 billion climate finance commitment to developing countries, but this goal hasn't been met. The new deadline to meet this mark was moved to 2025.
To end, we'll look into:
Could AI make wealth inequality worse?
Artificial intelligence is supposed to make human lives better. But is that actually what will happen now that AI technology has become more advanced?

Luckily, many workforce experts say that fears of AI tech causing unemployment to skyrocket are exaggerated. At the same time, though, it could worsen income and wealth inequality. How? AI could enable a new wave of tech billionaires while pushing many workers out of middle-paying jobs.

"It's increasingly going into office-based work and customer service and sales," Anu Madgavkar, who leads labor market research at the McKinsey Global Institute, explains. "They are the job categories that will have the highest rate of automation adoption and the biggest displacement. These workers will have to work with it or move into different skills." So, downward social mobility for white-collar workers is a real threat here.

Even with tech advancing so quickly, productivity growth has been slow since at least the mid-2000s in many countries all over the world. Economists see productivity growth as an essential thing when it comes to improving living standards. This is because AI developers have been trying to replicate human intelligence, which has mostly just led AI and automation to replace workers, not build on human capabilities to enable people to do new tasks.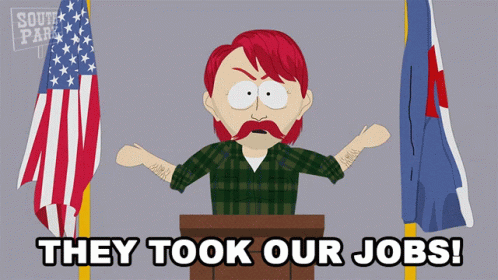 Erik Brynjolfsson, director of the Stanford Digital Economy Lab, says, "Ultimately, a focus on more human-like AI can make technology a better substitute for the many nonsuperstar workers, driving down their market wages, even as it amplifies the market power of a few. This has created a growing fear that AI and related advances will lead to a burgeoning class of unemployable or 'zero marginal product' people."

On top of that, new tech also creates this risk on a country-to-country level; the gap between rich and poor countries could widen as more investment is shifted to advanced economies where tech hubs are already grounded. According to the IMF, "The growing youth population in developing countries was hailed by policymakers as possibly a big chance to benefit from a transition of jobs from China as a result of its graduating middle-income status. Our findings show that robots may steal these jobs."
In other news ...
📈Stocks: MSCI's global gauge of stocks is up 0.1% at 2815.45 at the time of writing.
Dow Jones climbed 0.11% to 34,128.05.
Nasdaq Composite rose 0.92% to 12,070.59.
S&P 500 gained 0.28% to 4,147.60.
Hang Seng Index lost 1.43% to 20,812.17.
🧠Some quick factors to bear in mind:
US stocks closed higher on Wednesday despite concerns about more hawkish interest rate hikes as traders analyzed the latest US inflation data and better-than-expected retail sales.
US retail sales surged by 3% in January, marking the biggest increase since March 2021. So, even with inflation, people are still spending, and the economy is resilient. But, this could also mean a more rigid stance from the Fed with future rate hikes.
Traders are eagerly awaiting speeches from Fed officials later this week to get a better idea of what the central bank might do at its next meeting in March.
China stocks took a big hit on Wednesday as traders speculated about more interest rate hikes after US inflation data came in higher than investors hoped in January. Also, geopolitical tensions fueled a selloff, and doubts about China's economic recovery added to the negative sentiment.
China's central bank pumped more money into the financial system to meet the sudden surge in loan demand caused by the rapid post-COVID rebound, keeping its key policy rate the same for the time being.
👄Some comments and chatter:
"Retail sales for January were strong across the board, and together with the strong jobs report show a resilient economy. This notion is supporting the market's current 'Goldilocks' mood where the economy is strong, but inflation is receding, albeit still too high," said Matt Peron, research director at Janus Henderson Investors.
"It will take another two weeks before we learn more information about the Chinese economy's direction via the key two sessions. In this period of policy vacuum, people would choose to take profit first," said Banny Lam, head of research at Ceb International Inv Corp.
🛢Oil: Oil prices didn't move much on Wednesday as the USD became stronger, making crude more pricey for traders using other currencies and possibly reducing the oil demand. Some traders worried about more rate hikes, which might slow the economy and hurt fuel demand. With this, US crude lost 0.6% to US$78.59, and Brent fell 0.2% to US$85.38 per barrel.
👛Bitcoin: At the time of writing, Bitcoin is up 9.51% to US$24,317.70.
💸UN seeks billions in refugee aid: Since Russia invaded Ukraine a year ago, millions of Ukrainians have been fleeing and seeking refuge in nearby countries. Now, the UN's humanitarian aid and refugee agencies are asking for US$5.6 billion in aid to help people in Ukraine and the countries taking in these refugees.
📄EU debates more sanctions against Russia: Over the past year, the EU has been trying to weaken Russia's war machine with sanctions on oil and gas and other individuals and industries. On Wednesday, the EU started meeting to discuss even more sanctions, which could cost up to 11 billion euros (US$11.76 billion) in lost trade.
👱‍♀️Nicola Sturgeon steps down: Nicola Sturgeon has been the first minister of Scotland for the past eight years. As the Scottish National Party leader, she is a figurehead for the independence movement, which aims to make Scotland independent from the UK. On Wednesday, Sturgeon announced she'd be stepping down from office. She said she could no longer give her full energy to the position.
💔Thai cave rescue survivor dies in UK: Back in 2018, 12 boys from a soccer team were trapped in a cave in Thailand but saved after two weeks. The story got international attention. On Tuesday, the captain of the soccer team, young Duangpetch Promthep, died after being found unconscious in his dorm in Leicestershire, UK. The cause of death hasn't yet been determined.
🎈Spy balloon retaliation? The geopolitical balloon saga continues to unfold. On Wednesday, China's Foreign Ministry spokesman Wang Wenbin again criticized the White House's decision to shoot down the balloon that China says was blown off course into US airspace, saying there will be consequences. China says that shooting down the balloon was a violation of its sovereignty.
🩺Health insurance cuts in China: The Chinese government has made changes to health insurance benefits when it comes to pensioners. Medical benefits have been decreased, leading to some social unrest in areas like Wuhan.
💌Some aid reaches Syria: While the death toll in Turkey and Syria has passed 41,000 over a week after the earthquake, there is still hope in the region. Survivors continue to be found in the wreckage. An aid convoy was able to reach northwest Syria this week, which is controlled by the Kurdish-led Syrian Democratic Forces.
🔋Tesla charging stations allow widespread access: US President Biden has been pushing to sell more EVs, but it's difficult to sell these cars when refueling them on the road can get complicated. Now, Tesla and the White House are working together to make Tesla's charging stations accessible to all EVs across the country. Soon, all charging stations must be standardized and not proprietary.
📱Is Apple creating a flip phone?: OK, maybe not your typical 90s flip phone. But, on Tuesday, Apple was awarded a patent for new tech, and one of the diagrams shows a foldable device with a wraparound screen. Based on this, some predict a foldable device in Apple's future lineup.
🎟Hong Kong's free tickets: We previously reported that Hong Kong is giving away 500,000 free airline tickets to the city to boost tourism this year. Throughout March, April and June, different regions will have access to tickets. They'll be available through Cathay Pacific, and Southeast Asian countries can snag them from March, followed by mainland China from April, and Northeast Asia, Europe and other markets from May.
🏀MJ's a giver: Basketball legend Michael Jordan is turning 60 on Friday. To celebrate, he just made the biggest donation ever to children's charity Make-A-Wish® America, which gives sick kids hope by granting their wishes for once-in-a-lifetime experiences. Jordan donated US$10 million, saying his birthday wish was to inspire others to help grant more wishes to these kids.
♥That's a support system: Marguerite Richards was visiting her parents when she decided to make a TikTok of her dad. Her father had published a book he'd spent 14 years working on back in 2012, but the sales weren't so great. After posting the TikTok about his masterpiece, it went viral, and Lloyd Devereux Richards's crime thriller "Stone Maidens" shot to the top of Amazon's bestsellers list.
Written and put together by Joey Fung, Vanessa Wolosz, Shebby Farooq and Christine Dulion