Headlines
From China's copper crunch to an electric blue tarantula – Here are today's Headlines
China, the largest consumer of copper globally, is grappling with a complex situation involving this metal.
A few minutes every morning is all you need.
Stay up to date on the world's Headlines and Human Stories. It's fun, it's factual, it's fluff-free.
To start off, we're looking into:
China's copper crunch
The backstory: China, the largest consumer of copper globally, is grappling with a complex situation involving this metal. Copper is often seen as a sign of how the economy's doing – when it's in high demand, it indicates a thriving economy. But, recent developments have added a layer of uncertainty.
More recently: Copper demand hasn't been as strong as expected lately. The metal is essential in construction, which has been shaky due to a property market crisis. It's also important in consumer goods, but cautious spending is affecting that sector.
The backstory: Even though the peak copper season in China is over the next few months, the numbers aren't looking great. While there's still some demand, it faces stiff competition from budget-friendly alternatives, keeping copper prices on the lower side and making investors more cautious. On top of that, a quarter of China's copper demand comes from construction, which is still being hit hard by the property crisis. Click the link here for more.
Hong Kong's retail green bonds
The backstory: Hong Kong has been on a green finance journey for a while now, mainly through something called green bonds. Green bonds are like eco-conscious loans – you lend your money to be used in projects that make the world greener, like wind farms or cleaner public transport. It's a way for investors to support green initiatives and still make some money.
More recently: Last year, the Hong Kong government ventured into retail green bonds, which was quite a success. The first batch sold out quickly, pulling in HK$32.88 billion (US$4.2 billion) from nearly half a million eager investors. These bonds are all about giving Hong Kong residents a chance to invest in their community while enjoying steady returns.
The backstory: Hong Kong just launched a fresh batch of green bonds worth around HK$15 billion (roughly US$1.9 billion). These bonds have a three-year term and pay interest every six months. Click the link here for more.
Fortune 500 companies and climate promises
The backstory: Climate Impact Partners (CIP) is an organization that works with companies to try to fight climate change with the help of worldwide industry. The idea is to get for-profit companies to take climate action voluntarily.
The development: According to the CIP's fifth annual study on climate commitments, not a single member of the Fortune Global 500 made a new climate commitment in the last year. Climate promises are stalling for many, and those who made promises in the past haven't necessarily been meeting them. And 34% of the Fortune Global 500 don't have any climate commitments at all.
One big issue here is that many companies aimed to use carbon credits to offset their emissions, but those emissions are hard to reduce, like the burning of jet fuel by planes. So now, companies are stepping away from their short-term goals while still saying they're committed to long-term climate action. Click the link here for more.
To end, we'll look into:
The Tai Hang Fire Dragon Dance
At the end of September this year, much of East Asia will celebrate the Mid-Autumn Festival, which falls on the 15th day of the eighth lunar month. The festival looks different everywhere – for example, the Tai Hang neighborhood of Hong Kong has its own special tradition, the Tai Hang Fire Dragon Dance.
For three nights, 300 performers will carry a glowing dragon through the community's streets, parading this giant creature in a dance as it snakes around the area. At 67 meters long, this guy is hard to miss. This is the first time that the dragon will be revisiting its route since 2019, and locals have been missing him.
"We are thrilled that the Tai Hang Fire Dragon Dance is returning this season after a four-year hiatus, and look forward to welcoming local and global visitors to join the celebrations," says Cheung Kwok Ho, Almon, Acting Commander in Chief of the Tai Hang Fire Dragon Dance and local of Tai Hang. Click the link here for more.
In other news ...
🔢Numbers:
📉Market snapshot and key quotes:
In the US: US stocks closed lower as investors eagerly awaited the Fed's policy meeting results this week.
The Fed's two-day meeting began on Tuesday, and it's widely expected that there won't be an interest rate hike announcement on Wednesday.
In Hong Kong: Hong Kong stocks recovered slightly after a previous drop. The focus is now on the upcoming Fed policy decision later this week, which could impact global markets.
📊Top gainers/losers and company news:
In the US: Disney fell by over 3% after the company announced its plans to nearly double investments in its parks and cruise business.
In Hong Kong: Chinese property giants took a hit. Evergrande tumbled over 9%, and Country Garden dropped 2.8%.
👀The numbers everyone is watching:
In the US: A slew of economic data is on the horizon this week, including figures on housing starts, initial jobless claims and existing home sales.
In Hong Kong: China will release its loan prime rates on Wednesday.
📅To check out our economic calendar for this week, click here.
More headlines ...
🗺Azerbaijan launches operation: Azerbaijan and Armenia were last at war about three years ago, ending in a truce in 2020. In Azerbaijan, there's a breakaway region called Nagorno-Karabakh, run by a group of ethnic Armenian separatists, which has been a source of tension with the Azerbaijan government over the past few months. Azerbaijan just launched "anti-terror" operations in the region against the separatists, saying the operation will continue until the separatists surrender.
📢Libya protests: Last week, eastern Libya suffered from extreme flooding after torrential rain triggered two dams to break, costing the region thousands of lives. On Wednesday, hundreds of people protested in the eastern city of Derna against authorities and demanded answers after the disaster. They also set fire to a house belonging to the man who was mayor during the floods.
🔥Fire ban in Australia: The past several months were rough for the northern hemisphere in terms of wildfires, with countries like Canada and Greece being devastated by these disasters. As autumn comes on, these fires are less of a danger up here, but things are heating up in the southern hemisphere. Australia is experiencing heightened wildfire danger, seeing its first total fire ban in almost three years on Tuesday.
🚢ASEAN kicks off first-ever military drills: Earlier this month, the Association of Southeast Asian Nations (ASEAN) held its annual conference, where geopolitical tensions over the South China Sea were a central discussion point. On Tuesday, ASEAN began holding its first-ever joint military drills in Indonesia's South Natuna Sea. The exercises will last for five days, and they'll develop skills related to security and patrols, humanitarian assistance and disaster relief.
📄FTX sues Bankman-Fried's parents: Disgraced co-founder of the bankrupt crypto exchange FTX, Sam Bankman Fried, is in jail awaiting trial on fraud charges. In a filing on Monday, FTX sued his parents, alleging that they used the company to get rich at its customers' expense. The filing says they accepted a US$10-million cash gift and a US$16.4-million luxury property in the Bahamas from FTX, even when the company was looking at a potential collapse. Stanford University, where the pair are longtime professors, has also said it plans to return millions of dollars it was gifted by the exchange to FTX.
👮‍♂️JPEX arrests: Crypto platform JPEX in Hong Kong is in hot water with authorities for operating without proper licensing. Now, investigators have received over 1,600 complaints about the platform, and the number of people arrested in the ongoing probe has risen to eight. Police also announced on Tuesday that they seized HK$8 million in cash and frozen property and bank accounts worth around HK$60 million in the investigation. It's become Hong Kong's biggest fraud case ever.
💼Exec swap: In the tech world, there are a handful of giants in competition, and Amazon and Microsoft are among them. Reportedly, Panos Panay, a 20-year Microsoft veteran who led the company's hardware and Windows teams, is leaving for Amazon. Although neither company has commented, Microsoft removed non-compete clauses about a year ago, and the two tech giants had another swap two years ago when an Amazon cloud exec left for Microsoft's cybersecurity unit. So, it's probably all good between them. Panay is expected to run the division for Alexa and Echo smart speakers.
✈F-35 found: Well, parts of it, at least. Yesterday, we reported that the US military had lost a US$100 million F-35 stealth fighter jet after its pilot ejected over South Carolina. Like, actually lost it – they asked locals to help them find it. On Tuesday, US Marines announced that a wreckage site had been found with debris from the plane. Oh, but the memes, though.
🎡Disney doubles down on theme parks: Disney has been in the news lately for reorganizing different departments to focus more on its streaming service, Disney+. But now, Disney just released new plans to double its investment in its theme parks, bringing it up to US$60 billion over the next decade.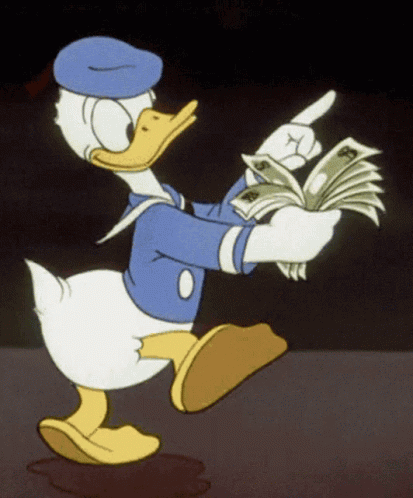 💸Musk weighs monthly fee: X, formerly Twitter, currently has a free tier and a subscription option for users. In a conversation with Israeli PM Netanyahu regarding the hate speech situation on X, CEO Elon Musk said a small monthly fee for all users might be the solution. The idea would be to fight against bot operations, which can be used to amplify hate speech.
💻Google connects AI chatbot Bard to other apps: Last March, Google released its AI chatbot, Bard, which has been criticized for reportedly releasing misleading info and being generally less capable than ChatGPT. On Tuesday, Google showed off its plan to connect Bard to its biggest services and apps like Gmail, Docs and YouTube.
🧠Brain-chip trials: Elon Musk's startup Neuralink has been experimenting with brain-computer interface (BCI) implants, and now the company has received the green light for human trials. Neuralink is looking to recruit people with paralysis due to cervical spinal cord injury or amyotrophic lateral sclerosis. The trial's first goal will be to see if the participants can use the brain chips to control a computer cursor and keyboard with their minds.
🎉Night Vibes incentives: As we reported last week, Hong Kong's rolling out a campaign called Night Vibes to boost the city's nightlife and evening-time economy. Some new incentives were announced this week, including HK$100 dining vouchers for tourists, discounts on open-top bus night tours, extended shopping and attraction hours and more. Many events are lined up as well, like the "Taste Around Town" campaign in November, Hong Kong WinterFest for the holidays and food markets and festive events around the city.
🎙Clockenflap!: Hong Kong's famous music festival Clockenflap is returning for its second installment this year in December, and the lineup has been announced. The three headliners are J-pop duo Yoasobi, Brit-rock band PULP and rising Australian-Japanese star Joji. Other performances include Wednesday Campanella, Deekline & Ed Solo, Leah Dou Jingtong, D4vd, Running Youth, Yard Act, Andy Shauf, Squid, Envy and more. The festival will be from December 1-3 at the Central Harbourfront event space. Tix are on sale now, priced at HK$1,990 (US$255) for the three-day weekend and HK$1,280 (US$164) for single-day admissions.
🕷New electric blue tarantula: Finding blue animals in nature is a pretty rare phenomenon. Scientists in Thailand have found a bright species of tarantula in the southern part of the country. The spider has a "blue-violet hue resembling the color of electrical sparks," researchers described. It was named the Chilobrachys natanicharum, a name chosen through a nationwide auction won by Nichada Properties Co., a real estate company.
---
Enjoying our TMS Headlines?
Forward it to a friend! After all, sharing is caring.
Anything else? Hit reply to send us feedback or say hello. We don't bite!
Written and put together by Joey Fung, Vanessa Wolosz and Christine Dulion