Geopolitics
From Chinese astronauts to going goblin mode – Here's your December 6 news briefing
To start off, we're looking into: Chinese astronauts return to Earth – A 2011 US amendment pretty much excluded China from the International Space Station (ISS).
A few minutes every morning is all you need.
Stay up to date on the world's Headlines and Human Stories. It's fun, it's factual, it's fluff-free.
To start off, we're looking into:
Chinese astronauts return to Earth
A 2011 US amendment pretty much excluded China from the International Space Station (ISS). It essentially prohibited NASA from collaborating with the Chinese space program (without special permission from Congress) on national security grounds. So the world's second-largest economy has been launching space missions to advance its space power and build its own station, Tiangong.
On Sunday, three Chinese astronauts, Chen Dong, Liu Yang and Cai Xuzhe, returned to Earth from a six-month mission to complete the construction of Tiangong, landing in China's northern Gobi Desert. While on the Shenzhou-14 mission, they performed spacewalks, a live science lecture from the station and conducted various experiments. A week ago, three other astronauts arrived at the station to take over its construction for the next six months, which will be the last in the station's construction phase.
China's carmakers are saving their own overseas shipments
China's long battle with COVID and recent lockdowns have triggered labor shortages alongside a fiasco in supply chains between Asia, the US and Europe. But, despite falling consumer demand for Chinese goods, Europe has become a major market for China's auto exports. But, customers could see a supply shortage from China because its industry is already struggling with a lack of semiconductors and ships. Plus, the shipping cost flared up to the highest since at least 2000.
So, now China's biggest carmakers, BYD and SAIC, are ordering their own ships to make sure the cars arrive on time to buyers. In October, the world's largest EV maker, BYD, ordered at least six ships able to carry 7,700 cars. As for the Chinese state-owned SAIC Motor, it bid on seven new carriers that can each hold 8,900 vehicles.
Russia's new LGTBQ+ law
Russia has a bad reputation when it comes to LGBTQ+ rights. In recent years, the government banned some major LGBTQ+ rights groups, like the Sphere Foundation, which informed people about anti-gay purges in Chechnya. Other rights groups are labeled as "foreign agents," which means, according to the Russian government, they receive "foreign funding" and are involved with "political activity." Homosexuality was decriminalized in the country back in 1993, but ILGA-Europe ranks Russia 46th out of 49 European countries for LGBTQ+ inclusion.
On Monday, Russian President Putin signed a law against platforming "LGBT propaganda," banning any public expression of LGBTQ+ identity in art and media. This law includes anything that can be seen as promoting or "praising" homosexuality in public, online, in movies, books or advertising. Breaking the law brings the penalty of a pretty heavy fine.
To end, we'll look into:
Meet the newest AI chatbot
The AI revolution is fully upon us. At this point, those AI image generators are old news; people still use them, but they've lost the trendiness they once had. Now, the internet is getting on board with an entirely new AI phenomenon: chatbots.

Yes, chatbots have been around for a while. That's probably who you message when you need product support online. But, you might be surprised by how far back the history of chatbots actually goes, with a computer program called "Eliza" being invented back in the 1960s as a kind of computerized therapist. Eliza was pretty basic and didn't really create the best therapy sessions. But she's considered to be the first AI chatbot.  

But the bright and shiny new AI bots are a little different. We're talking about, in particular, ChatGPT.

Last week, OpenAI released ChatGPT for public use. This is the same organization responsible for the DALL-E AI image generator. In a tweet last Thursday, OpenAI's CEO Sam Altman said, "There is a lot more demand for ChatGPT than we expected; we are working to add more capacity."

It's kind of scary how almost perfect ChatGPT seems. This thing can write full-on essays that are impressive to read. Since it was released, people have been feeding the system exam questions, with the bot responding in essays that academics say would be more than acceptable if handed in by an undergrad. Computer programmers, too, are testing ChatGPT with coding challenges in lesser-known programming languages. It can solve them in seconds.

At the same time, though, sometimes ChatGPT can be straight-up wrong, even if it sounds right. Its developers have admitted that it "sometimes writes plausible-sounding but incorrect or nonsensical answers." For example, ChatGPT gave one Twitter user a very detailed but very incorrect response to an algebra equation that the user fed it.

When it was released, OpenAI said, "The dialogue format makes it possible for ChatGPT to answer follow-up questions, admit its mistakes, challenge incorrect premises, and reject inappropriate requests." We'll see.
In other news ...
📉Stocks: MSCI's global gauge of stocks is down 1.34% at 2696.30 at the time of writing.
📰Some specifics:
Dow Jones is down 1.40% to 33,947.10.
Nasdaq Composite fell 1.93% to 11,239.94.
S&P 500 lost 1.79% to 3,998.84.
Hang Seng Index hiked 4.51% to 19,518.29.
🧠Some quick factors to bear in mind:
In the US, stocks closed lower on Monday amid fears that the Fed may keep its policy tight to tame inflation, potentially tipping the economy into a recession.
The US services industry activity unexpectedly rose in November, with the business activity index boosting by the most since March 2021, suggesting the economy remains resilient.
A hotter-than-expected reading of the ISM report worried investors that the Fed would continue interest hikes after it topped Dow Jones' estimates and increased from October.
In China, stocks rallied on Monday as the country relaxed COVID testing rules in some cities and signaled more easing may come. Investors hope it will boost global growth and demand for goods.
The yuan boosted to its strongest against the dollar since mid-September.
The Hang Seng TECH index, which represents the 30 largest technology companies listed in Hong Kong, surged over 9%.
The Hang Seng index rose over 4%, while China's CSI 300 index, which tracks the largest mainland-listed stocks, rose almost 2%.
👄Some comments and chatter:
"The service sector expanded at a faster pace in November, with the holiday season bolstering business activity. The price subindex confirmed the inflationary impulse in services is still strong despite more widespread disinflation in goods sectors," said economist Eliza Winger.
"Good economic news is bad news for stocks as it will keep the risk elevated that rates might have to end up higher later next year," said Ed Moya, senior market analyst at Oanda.
"The direction is very clear, because before this, many people and markets were having lots of doubts about whether China was serious about moving forward on phasing out Covid-zero," said Hao Hong of Grow Investment Group.
🛢Oil: Oil prices fell over 3% on Monday after US service sector data raised worries that the Fed could continue its aggressive policy tightening. US crude settled down 3.8% to US$76.93, and Brent fell 3.4% to US$82.68 per barrel.
👛Bitcoin: At the time of writing, Bitcoin is down 0.9% at US$16,951.90.
❓Uncertainty about Iran's morality police: We reported yesterday that Iran's morality police would be disbanded, but now there's confusion about that in Iran. Even though a senior official said it's being shut down, the government hasn't confirmed that, and now there's uncertainty if it will actually happen.

🌊Dead seals on Russian shores: About 2,500 dead seals washed up on Russia's shore off the Caspian Sea. Authorities are saying they don't really know how this mass death happened but that it was probably a natural cause. Caspian seals are classified as endangered.

😷Awaiting China's COVID announcement: On Wednesday, China might announce 10 new methods for relaxing COVID controls, according to Reuters. They'd be put into place next month.

📄Ramaphosa and the ANC: As President Cyril Ramaphosa's "Farmgate" corruption scandal unfolds, leaders of South Africa's governing party will meet to figure things out. On Sunday, Ramaphosa said his future will be decided by the African National Congress (ANC). He also said he plans to challenge the corruption report in South Africa's Constitutional Court.

💣Russia loses 91,000 soldiers: Russia has suffered 91,150 soldier casualties over about 10 months of battle, according to Ukrainian data released Monday. The country is on pace to hit 100,000 in less than a year of war. In the Bakhmut region of Ukraine, Russians are losing over 50 soldiers a day.

📜Donald Trump and the US Constitution: On Saturday, former US President Donald Trump said that the US Constitution should be partly "terminated." He made this argument on his platform Truth Social because of a report of discussions at Twitter over the website's content, which both the Biden campaign and Trump White House had allegedly chimed in about. Trump also called for another election over the 2020 results.

✉Indian election: India has voted in its latest parliamentary election, and election polls show current President Modi's party with a lead in the Gujarat region. A national vote in 18 months could keep him in office.

👩‍⚖️Brussels attack trials begin: In March 2016, 32 people were killed by three suicide bombers who attacked Maelbeek station and Zaventem airport in Brussels, Belgium. Now, 10 men are being tried for their involvement, with six already found guilty of the terror attacks in Paris back in 2015 that killed 130 people.

📦Amazon layoffs: Amazon has plans to lay off up to 20,000 employees over the next few months, including distribution center workers, tech staff and higher-ups. The company hired tons of people during the pandemic and now has to rethink jobs. Back in November, Amazon was reported to be laying off half that number – about 10,000 people.

🤑NZ's Facebook and Google plan: New Zealand's government will introduce a law making big online digital companies like Alphabet and Meta pay the country's media outlets for local news stories posted on their feeds. There are already similar laws in Australia and Canada.

🔭World's biggest telescope: On Monday, construction will begin on the Square Kilometre Array (SKA), which will be the biggest radio telescope in the world. It's expected to be done in 2028. It will test Einstein's theories and maybe even search for aliens.

🦴Tasmanian Tiger: It's been basically impossible for humans to find the remains of the Tasmanian tiger, which has been extinct for about 2,000 years, except in Tasmania, where it then went extinct due to hunting in the 1800s. As it turns out, remains of the tiger have been in the Tasmanian Museum and Art Gallery (TMAG) in Australia, unidentified for the 80 years they've been there.

👺Goblin mode: The Oxford English Dictionary just released its word of the year – the popular internet phrase "goblin mode." It won a poll with 93% of the vote. According to the OED, goblin mode means "a type of behavior which is unapologetically self-indulgent, lazy, slovenly, or greedy, typically in a way that rejects social norms or expectations."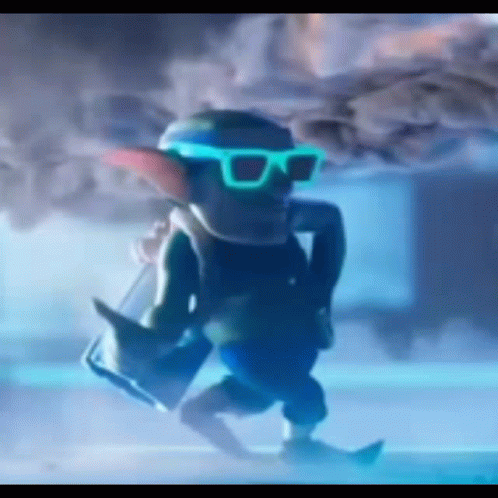 Written and put together by Joey Fung, Vanessa Wolosz and Christine Dulion